Every season brings the best of it, and Fall could be the favorite for many of us, weather turns a little cool and invites us to do many things.
From go outdoors for a hike, dress cozy for cooler temperatures, drink a hot latte spiced and pumpkin flavored and why not to have a piece of home baked apple pie.
Whether Fall is your favorite time of the year or not, everyone can make the best of it, living in a country where you can live the changes of every season, this is the reason to take the time to make a Bucket List for every season and have some fun before the new season arrives.
Living in the province of Quebec, Canada for the last 7 years have given me the opportunity to enjoy the change of season from Summer to Fall.
See the change of color in the landscape and watch every day how trees can go from fresh green to the most beautiful tones of yellow, orange and red, it's something you need to see at least once in your life!
Living in a rural area, surrounded by farms, where most of them grow apples, it's easy to enjoy all the fun that Fall can bring. From visit an orchard and buy some organic apples, to spend a day on the farm and have some fun at the apple stand.
If you live in the area of the Monteregie, Quebec, or just across the border, you might want to visit the area during this time of the year, there are a few apple stands you might want to visit in the municipality of Franklin Center and Saint Antoine Abbe.
You can read also:
How to make a Fall Bucket List.
When you have been working on your Bullet Journal, you might know by now; it won't take you long to make a Bucket List, and this time you can add all your favorite things to do during this beautiful season.
Visit a pumpkins patch and pick a couple of pumpkins!
Wear a cozy sweater and rubber boots!
Visit an orchard and pick some apples by yourself!
Make a pie: apple or pumpkin.
Have some fun and visit a corn maze!
Decorate the house for Fall.
Go outside and enjoy the crisp air.
Open the windows!
Read a book cozied up on the couch.
Go to a Fall Festival.
DIY Fall Crafts.
Wear scarves.
Make chili, do you have a favorite recipe to make it?
Bike to Farmers Market.
Go for a hayride.
Make some Fall recipes!
Eat caramel apple.
Have a camp fire.
Burn Fall candles.
The list of activities to do during this wonderful season can go on and on, you can write down any activity you want to do, it will be fun to keep this Bucket list on your Bujo and check every activity you do, at the end of the season you'll end with a beautiful Fall Bucket List and many good memories!
Life should be build up with good memories, the bullet journal helps us to find the way to do more of what we love to do and keep the memories on it, in one year you can open the 2018 Bullet Journal and you can read all you did to have some fun during the Fall, in a few years, you'll have more memories to look at.
You don't need to be a professional artist to make a cute Fall bucket list, all you need to do is to write down all the things you want to do during this time of the year, add some circles to each one of them, so you can "check" on them as you do them.
Add a few doodles here and there, at the end when you're happy with your bucket list, just add some color and voila!! you'll get your own Fall Bucket list!
Fall Bucket list for a family.
If you have young children or teens at home, don't forget to ask them what would they love to do this time of the year, that will add some fun, children and teens have great ideas and you'll have some fun doing what they love to do!
A Family Bucket list should have activities to do for all the family members, some times we should do some activities we didn't have in mind, but our children would love to.
They have great ideas and family can have some new activities to try!
Fall Bucket List FREE Printable.
As I was working on my own Fall Bucket List to add it to my Bullet Journal, I though you might want to get a FREE printable, so I made two versions of it.
You can print them out as many times as you want to, keep one on your Bullet Journal and one on your fridge so your children can read it and pick something to do on the week ends.
You can click on the images to download them. Let me know in a comment which one is your favorite.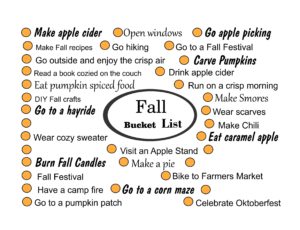 If you like the same Fall Bucket List I did by hand, I only scanned it, it might print it out the same as mine with a few pencil lines and some ink spots here and there.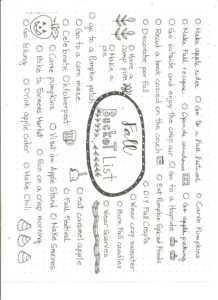 Be awesome and share this article!
……..