How to Bullet Journal – The beginners guide.
A bullet journal is a personal and flexible system to organize your life, and work to achieve short, medium, and long term goals.
Bullet journalism is a pen and paper based system tool designed by Ryder Carroll. He says "this is a tool that helps users to track the past, organize the present and plan for the future".
After having worked on it for the last three years, I find this system is legit. As you work on it with a combination of the best features of many organization tools, such as daily, weekly, and monthly planners, personal journal and to do lists; when you combine them all in a same notebook you'll have a great flexible productivity super tool.
Once you start working on this system you will learn how to get more organized and at the same time you can get more creative in your own way to make plans to help you to achieve your goals.
There's no rules you need to follow working on it, you can learn from other people who currently are using this system and share their amazing speeds so we all can get inspired to start working with this system of planning, but the best of it is you can be yourself and find your inner voice that will help you find the best way working on a project and keep track of it.
By the end of each year, you'll be amazed at how much you could do in that period, as you keep working on it for the next year, you'll get the most beautiful collection of spreads and pages all made by you!
Check the price of the

Leuchtturm 1917 on Amazon,

one of the best notebook to start your Bullet Journal
Why it works.
What is great about this organization tool is that it is flexible, you can work on building your own organization system that works for you design different modules, spreads and collections.
You don't need to get the most expensive or beautiful Bullet Journal to start working on this system, you can start today with that old notebook you already have at home and learn how to do it by doing it.
As you learn you'll get more skilled to make the layouts that will work for you and your organization needs, each one of us is unique and each one needs their personal way to get organized and motivated.
To help you to get started, a good idea is to learn some terms you'll be working with.
Glossary:
Spread: the two blank pages (on the left and right) when you open your journal and it lays flat.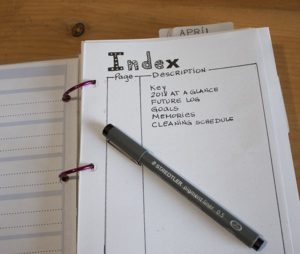 Index – This is essentially your table of contents, complete with the page numbers. It allows you to quickly and easily locate all of your journal's content and heps to keep you organized.
On this page is where you will be writing your different sections that will help you to get and stay organized, you need to write your own index on the first spread.
Page numbers – You need to number by hand each one of the pages on your notebook, usually it goes on the outer bottom corner on each page.
Codes – On the right page of the first spread you can write down the codes you'll be using on your Bullet Journal to help you to visualize your task for you to do in an easier way.
Your bullet journal setup can be whatever you want it to be! Some additional creative uses for the bullet include, but certainly are not limited to:
mind maps
mood track
sketch notes
blueprints
design mock-ups
lettering practice & other doodles
fitness/food trackers
goal trackers
book/reading lists
gratitude logs
…Literally, anything. Just index it!
Future log – On this layout or spread, you can draw a tablet on each side of the paper for 6 months.
You can write in advance your events you'll have on each month, and write down anything important you need to do on each month as soon as you know about it.
Monthly log – This is also a 2-page spread, where the left page serves as your monthly calendar. You'll write the month at the top and the dates on the left-hand side followed by the initial of the day – i.e, for May 2018 it would be:
After writing out the entire month's dates, you'll make note of major calendar events, holidays, birthdays, milestones, etc.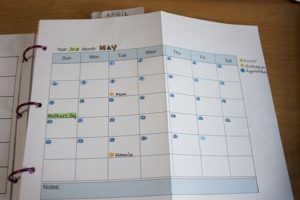 Daily Log – These are your entries, which will be denoted with category marks. You'll start with the day's date written at the top and then list out everything it entails (tasks, events, notes, etc.)
Bullets/Category Marks Under the day's date, you'll list out any items using the following markings, known as "bullets", in short-form notation:
Tasks (a closed dot)
Events (an open circle)
Notes (a dash)
Note: These are the standard bullet journal signifiers, but you're of course also free to create your own
Core Modules – Collectively known as the index, future log, monthly log, and daily log, these are what make up the 'core modules' of the Bullet Journal. They're the primary components, but you can create the modules that are best for you and your lifestyle and your plans, or goals to achieve.
Rapid logging – By using category marks under the daily log, this is when you quickly write things out ahead of time &/or as they occur. This is used on a day to day basis, which gives you the freedom and flexibility to skip and not waste pages – (hello planning-free weekends & vacations!)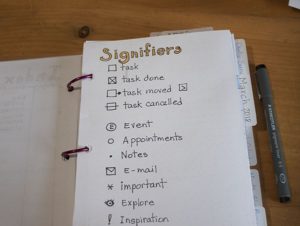 Signifiers – These are how you denote whether things are a priority, have been completed, are being moved to the next month, being moved back to the future log to add to a later month, or being removed all together. You mark these over top of the previous bullet/category marks.
The most common signifiers are as follows:
Note: you can create your own bullets and signifiers as you see fit. It should feel intuitive. Just make sure you stay consistent or you might end up confusing yourself.
Collections (topic pages) – Essentially, each entry is considered a collection. They're great for shopping lists, classes, ongoing projects, brainstorms, goal-setting, etc. These are totally customization and completed as a needed basis.
You can also 'migrate' (see below) any related tasks, events, or notes to a collection. Just be sure to index it for later reference.
Migration – This is the signature process of moving tasks/events/notes from within the bullet journal. Although every bullet doesn't need a signifier, every organizational or planning system needs an active review. In the Bullet Journal, this is completed with migration, so don't miss this important step! This is done at the end of every month, while preparing for the next month. This is done in a few ways:
When you're working on a task and you didn't get it done in a month and you need to keep working on that task on the next month, you can migrate it to the following month and keep working on it. (and it gets marked with the '<' signifier).
Any tasks/events/notes that are incomplete but still important, get them on the next month's log using the '>' signifier so you can keep working on them.
Most of all, this system will help you to keep working on what you want or think it's important to keep at it to help you to achieve your goals, if you don't see any importance to keep working on something anymore then you can stop working on it.
Keep it simple.
How to start Bullet Journaling
1 Get started
You can get started by working on the first page to set up your index, write down everything you want to add to your bullet journal and you'll be working on it later as you require working on each one of these points.
The next thing you need to set up is the signifiers you'll be using on the next page of your notebook: task, task done, task moved, task canceled, event, appointments, notes, e-mail, important, etc.
2 Find a system that works for you
As you work on your first bullet journal, you might be using a different kind of layouts or spreads, then you'll find what system is the best that works for you, but be sure to add on your notebook some basic spreads that will help you to get everything on it as:
Year calendar.
Monthly calendar – it will help you to have a spread where you can mark down any date where you need to do something important as: birthdays, anniversaries, a family event, some important dates for your job, vacations, travels and others.
Weekly calendar – on this spread you'll have more room to write down those important task working on during this week or some important appointments or events during the week.
Daily layout – when you need to do some different tasks on a day, this layout comes up very handy to help you to get organized for all your activities during one day.
Project – Discover what kind of layout will work better for you working on a project, designing it, thinking on your needs, you can achieve any goal no matter how big it can be if you do one step at a time. Write down all the tasks you need working on to get it done.
3 Find motivation to keep at it
As you keep working on your own Bullet Journal, you'll discover how easy is to keep at it, day by day you can plan your activities working on to achieve your goals.
Getting to know in advance what you want to achieve, set up your goals and make a plan will simplify the work you need to do.
There's no need to keep everything in your head when you can take a few minutes to sit down and write it down, as you learn how to make a plan and make task working on, you will see how all you need to do is to check on what tasks you need working every day as you have already all your plans for every project written on your Bullet Journal.
With you mind clear it will be easier for you to focus on those activities you need to do without the need to remember everything you need to do all the time.
Be sure working on your plans, make a strategy and write down the tasks you'll be working on, by the end of the first month using this system you can see how much you have achieved.
It doesn't matter what your purpose in life if you want to improve, personal, family, work or anything you want to, the Bullet journalism will be the best tool you can work with to achieve anything you want to.
Closing.
You don't need to be a professional artist to have the best Bullet Journal ever, start where you are right now, even with no doodles on it, or no art it will work fine for you.
Find your own voice, start making the "to do lists" that you want to start working on, achieve your first goals, go week by week, and month by month, at the end of this year you'll end with many goals achieved.
Dream big, make plans for yourself, and work on them, one task every day, their will be no goal you want to achieve that you can't reach.