November Monthly Setup – Bullet Journal 2021 – November is here and it's time to get everything ready on your Bullet Journal, the new month setup won't take you much time, by now you know what spreads work better for you!
November Monthly Setup – Bullet Journal 2022
Take a look to more Monthly Setups on your Bullet journal:
---
Bullet Journal Supplies Used:
You can get the same supplies I use to create my Bullet Journal and my planner pages with the affiliate links.
Mechanical Pencil on Amazon Canada – Make a sketch of your layout before you draw with permanent ink.
Check the price of the Mechanical Pencil on Amazon.com
Permanent Ink Liner – I've been using this brand for many years and I love it!
Check the Price of the Permanent Ink Liner on Amazon.com
Add some color with the double tip highlighters.
*This post may share affiliate links, thanks for your support.
---
November Bullet Journal Cover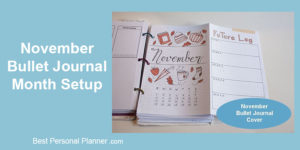 Keep it simple or get more creative!
Draw something that reminds you why you're happy about this month or something important to happen this month, this is an easy way to make the month cover significant for you.
Bullet Journal creativity will help you find the joy to start a new month.
November Bullet Journal Future Log
Nothing better to help you to reach your goals and challenges during this month than the Future Log
Write down on each week your goals, keep track on them and highlight each one of them as soon as you achieve that goal!
Nothing better to help you to achieve everything you want to achieve in your life than start a way to track them! When you write on paper your goals, then add a deadline to do it! by the end of the month you'll see how good you did at it!
Gratitude Calendar
Get the good habit of writing a gratitude calendar, write one to three things every day that you're grateful for, by the end of the month you'll see how many good things happen in your life.
It doesn't need to be big happy things that happen in your life, start with little things you're happy about, like having a house, having 3 meals, spending good time with your family and friends or with yourself.
As you keep working on this new habit, you might notice it may be hard to find good things in your life at the beginning but as you keep working on it, it will become easier.
You can read How to Write A Gratitude Journal
To Do List / Bucket List
Some ideas to add to this month bucket list
Make pumpkin pancakes
Drink hot apple cider
Do a puzzle
Do a crochet scarf
Drive country roads
Wear a sweater
Make Chilly
Visit a coffee shop in your town
Christmas shopping
Write a gratitude calendar
Jump in the leaves
Visit a farm with some special Fall activities
Mood Tracker
A classic in your Bullet Journal or on your personal planner, you might be used to it by now, but the good side of keep working on it is you get to know better about yourself and the triggers.
You might have by now a good knowledge of what days of every month you might have some mood changes and how to make it easier for you and your family.
The challenge is the same every month, take your time to notice every change in your mood and think for a minute or two what happened that triggered it.
You can keep working on a simple tracker or get a little creative and copy mine, draw some cups of coffee or tea and have fun adding some color on each cup during this month.
Read also: Best Mood Tracker
Month Calendar
Having a month calendar on your Bullet Journal or on your personal planner will help you to plan in advance whatever you need to pay attention to on this month.
Birthdays
Events
Appointments
Work appointments
Time for yourself or time with your family
Pick some different color to highlight each one of them.
Don't forget to highlight some OFF time for you and for your family!
Weekly Spread
A simple weekly spread for the bullet journal, I'm using the FREE September weekly spread, I just cover the month with a piece of paper and voila, it's ready!
This FREE weekly spread has enough room to add any doodles you want to add while you work on planning each week. It also has 8 circles to keep track of water drinking.
I'm sure by the end of the month, you'll have four or five beautiful weekly spreads to share on Social Media!
New to Bullet Journal? Find the best notebooks to start a Bullet Journal here!
Closing Thoughts.
Nothing better to reach your goals than keep working on your Bullet Journal or on a personal planner, add all the spreads you love to work on, I share the spreads I love to add each month, but you might need a few different like menu planning, an event planning, etc.
Working on a Bullet Journal or a planner needs to be personal and from month to month spreads might need to be different.
Work on it and share your experience on Social Media or leave a message in a comment below, by sharing your expertise everyone wins!
I thank your for your visit to my blog, if you enjoyed this article, give my pin a share! 🙂