Christmas is around the corner and it's time to decorate your Bullet Journal with the best and easy Christmas doodles!
You don't need to be a drawing artist to make amazing simple Christmas doodles on every piece of paper you can find with a white space on it. Doodles are amazing and they don't require many years of drawing lessons to make them!
Best And Easy Christmas Doodles Bullet Journal Everyone Can Make!
That is what I love about doodles: anyone with a pencil or a pen in his or her hand can make them!
Straight and curved lines and a few circles and you will be doing the most amazing little Christmas doodles, don't let anyone tell you that you can't draw.
All you need is a piece of white paper (or any paper) and start doodling, don't worry about your first doodle, just keep doing.
If I need to tell you the truth, I also make mistakes as most of the artists, we all do mistakes, and sometimes those mistakes become what makes our brand.
A cute Christmas doodle will not be the same when two people make it. So be sure to get that pencil or pen and that piece of paper and start doodling on it.
You might get surprised by how good you are.
Christmas is the perfect time to add some doodles anywhere!
That Christmas card you need to send today, add a doodle on it, it will make smile the recipient!
That note you need to send to your boss, add a doodle on it, (just don't doodle on official papers)
If you need to leave a note to tell your children something today, add a doodle on it.
Christmas doodles on your Bullet Journal.
Well it's the time that you need to get organized, so many things to think about and so many things to work on.
While you think on the things you need to shop for the Christmas presents, and you wait for that present idea for someone on your list that is not easy to please, make a doodle, by doing this you will help your brain to come up with a brilliant present idea for him or her.
Christmas house cleaning and decorating list can be a long one to write, once again there's so many things to organize and writing them will help you to know what to do each day to get your home ready for Christmas, you always can add some doodles here and there and those endless chores list will look happier!
Add some Christmas doodles on your weekly spread.
---
Take a look to my favorite tools list here, with these tools I work with to create the layouts and spreads for my Bullet Journal!
---
Cute Christmas doodles ideas Bujo.
If you're looking for some Christmas doodles ideas, I have for you a list where you can find some inspiration, all these doodles will not require any mayor skill to make them, and each one of them will take only a few seconds to make them, they do not need to be perfect, doodles that are perfect or not will always help you to be happier.
Christmas trees
Wreaths
Arrows
Bunting
Candy Canes
Bows
Stars
Antlers
Christmas words
Banners
Christmas leaves
Snowman
Snowflakes
Coffee mugs and cups.
Reindeer
Presents
Christmas ball
Christmas quotes
Christmas wishes

How To Draw Christmas Doodles.
As I told you before, every doodle will start with a basic shape, a circle, a straight or curved line, and all you need is to add some more lines to the first one.
You can start working with a pencil and when you're happy with your doodle, do it again with a fine liner or with a pen, at the end, all you need to do is to add some color with some colored pencils or markers.
Weekly Spread With Doodles Ideas.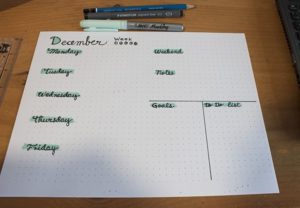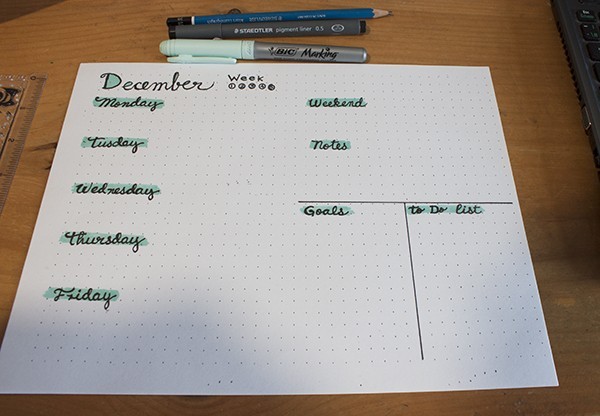 I always get a request for a minimalist weekly layout, and some people love to keep it like this for their weekly spreads, if you're one of them, just taking the time to design a new weekly spread with a light blue blocks to highlight days and tasks to work on during this week and you'll get ready a beautiful minimalist weekly layout.
If you like this weekly minimalist spread, feel free to copy it. It won't take long for you to make yours.
Winter can be hard and long here in Canada, temperatures will stay below zero most of the days and time can feel like an eternity.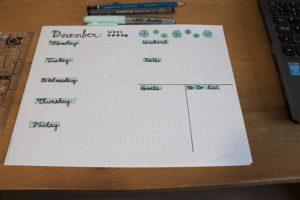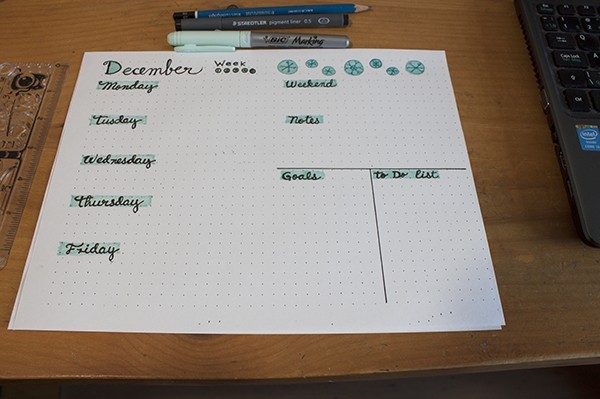 But if you do your best to keep going on your life and get organized, why not to make from Winter something pretty, adding some snowflakes to the weekly spread will add some wintry touch to your organization, you'll be more focused on the task to do this week.
The Christmas week I know it will be a busy week for everyone, so I like to take a few minutes to get the weekly spread ready for this week.
As it will be Christmas, it's ok to decorate it more whether you're a minimalist or not, Christmas is about that, decorate everything, don't be shy, it's time to be happy and to share the happiness with everyone.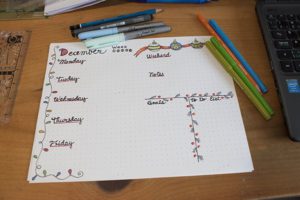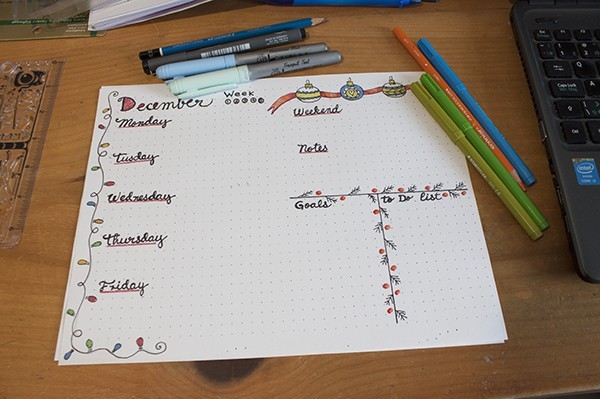 Some Christmas lights and some Christmas balls on a weekly layout will help anyone to celebrate more Christmas!
I thank you for your time to stop and visit my blog, I hope you can find some ideas that will help you to keep working on your Bullet Journal to get more organized and to reach your own goals.
If you liked December weekly spreads, feel free to copy them, you can find a list of the tools I used to make my weekly spreads and to decorate them here, just click on the button below.
---
You can take a look to my favorite tools I use to create the layouts and spreads for my Bullet Journal here.
---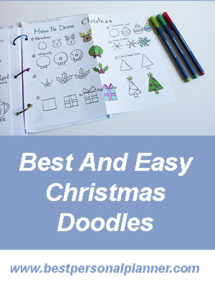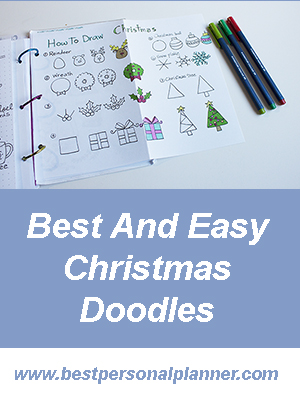 If you want to come back to read more from my blog, you can PIN it so you can find it later.