Top 11 Bullet Journal stocking stuffer ideas list will help you find that amazing Holiday present your looking for to give to the journalist addict on your list.
When is the time to buy a present for the Holidays, you won't go wrong to get that thing someone is already wishing for, something useful and something she or he will use all year round.
Top 11 Bullet Journal Stocking Stuffers
Bullet journalists and planner addicts have already a big wish list of things they would love to have one day!
A new pen or liner to try and that will help them to make amazing layouts to work on.
That washi tape they saw on the internet, and that will help them to decorate not just one page but many and it will look amazing!
That set of markers or colored pencils to add some color here and there on the new layouts that they are working on to help them to achieve their goals.
Most of the tools to work on a Bullet Journal or on a personal planner are the perfect size to put them in the Christmas stockings, most of them will not break your bank account and most of them will bring some joy to the person who will get them on Christmas Day!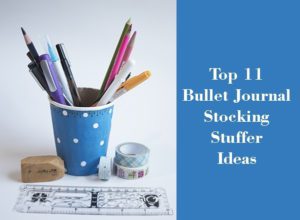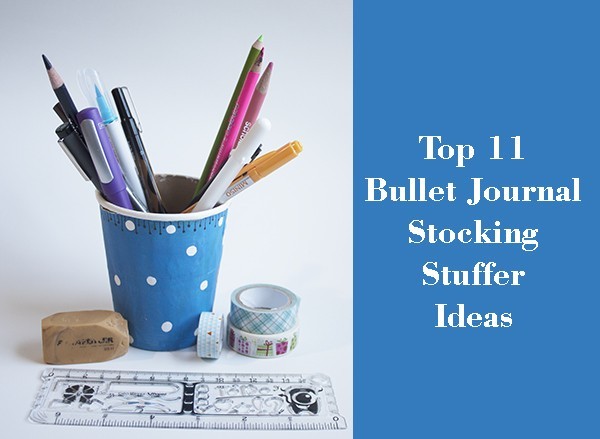 You might get some fun too at the time to buy them, and who knows, you might want to start your own Bullet Journal after you see how amazing some of these tools are!
I have tested all the tools I list here, and I can say all of them are great to work with, you can be sure they will help the bullet journalist in your family to work on their Bullet Journal with joy and making some amazing designs, drawings, while she or he makes a good plan to achieve their goals!
---
So let's start the list:
1 Staedtler Pigment liner.
These are my favorite liners, I always keep a set from them close to my Bullet Journal or my personal planner, to write a to do list or to make a month cover and other layout ideas, the Staedtler Pigment liner will always work fine and its point will never fail. The ink is always in good shape and never fails. These markers have enough ink to last for months, even if you write or draw with them every day.
You can check the current price for the Steadtler Pigment liner on Amazon here.
2 Fountain Pen.
Make the Bullet Journal addict in your family happy this Christmas, get at least one fountain pen for her or him!
A good fountain pen is a never fail gift when you get it for a person who loves to write and to draw!
Classic and modern Calligraphy will be easier to work on with a fountain pen. You will never go wrong with one to give it as a present, and fits perfect in a Christmas stocking.
You can check the price of a Fountain pen on Amazon here.
3 Staedtler Triplus – Fineliner.
It will help you to make amazing designs with fine lines, there are a many colors to pick from to find your favorites
You can check the price of these markers on Amazon here.
4 Moleskin – Click Ballpen
It's price seems to be high but its quality talks by it!
If you're looking for a good quality Holidays present for that person in your favorite list who loves to work on his or her Bullet Journal, you'll never go wrong with one of this Moleskin click ball pen.
It's shape can look bizarre, but when you try it to write, you'll get in love with it and it will become your favorite, the ink is also good quality and it will help you to write and make doodles on your Bullet Journal or on your personal planner!
You can check the price of the Moeleskine click ballpen on Amazon here.
5 and 6 Miniso Markers.
I just bought these two Miniso Markers, both are OK, it's nice to write with them, ink doesn't bleed on regular paper, but I need to try them on other types of paper, but if you're looking to give a few markers to the Bullet journal addict in your family as a Holiday present without breaking the bank, you can look for this brand and get a couple of them.
I couldn't find an Amazon seller that sells Miniso markers to share with you. But Miniso stores are opening in many cities around the planet and it might be easier for you to find a Miniso store near your home.
7 Gelly Roll Sakura Pens.
Well, what can I say about the Gelly Roll Sakura pens that you might not know by now? I think theres no much I can add, these pens are great to work with to do amazing writing and doodles in different color, you can find them from white to any color you can image and each one of them will work perfect and they will never fail or leave a ink spot on the paper.
These pens are the favorite of many artist who love to work with gelly pens!
The gelly roll sakura pens are affordable and you can get one, two or even a full set of them to give them as a Holidays present or just put them in the Christmas Stocking!
You can check the price of Gelly Roll Sakura pens on Amazon here.
8 Scholar Prismacolor Colored Pencils.
Adding color to a Bullet Journal or a Personal Planner will help anyone to remember better all those long "to do lists" they need to work on to achieve any goals or dreams they work on.
If you're looking for a set of colored pencils to give as a Holidays present, you won't go wrong with a set of the Scholar Prismacolor colored pencils!
You won't break the bank and you'll give as a present, high quality colored pencils that I'm sure they will become the favorite of anyone who works with them.
From drawing a simple colored line to do the most amazing drawings and designs anyone will love to work with them.
You can check the price of the Scholar Prismacolor colored pencils set on Amazon here.
9 Ruler for Bullet Journalism
One of these rulers will become the best tool to work with while Bullet journalim, all your lines will be drawn straight, and you will be drawing boxes to write anything you want to on them, but you also will get a tool that will help you to make the perfect drawings of different shapes to keep your journal tidy and perfect.
It doesn't matter if you need to draw a circle or a square, a small heart or an arrow, they will be always be the same when you keep one of these rulers in your Bullet Journal all the time.
These small rulers are light and they have a hole on them to help you to keep them on your Bullet Journal all the time.
They are not expensive and any bullet journalist will love to get one of them at least this Holidays season!
You can check the price of the Bullet Journal Ruler on Amazon here.
10 Steadtler Eraser.
Once you start working on your Bullet Journal, you'll be working on different drawings all the time, if you like to work on your designs with pencil first and then add some color or ink on them; you'll need a good eraser.
I have tried a few erasers, from the ones that make a poor work to erase a pencil line to the best and expensive erasers that will leave no mark at all from any pencil on the paper.
These last erasers that I've tried are the Steadtler erasers and I can tell you, they will make your work easier when you work to get the perfect designs and drawings on your bullet journal.
A package of two Steadtler eraser won't break the bank and you'll make so happy the bullet journalist in your family when he or her get one set of these erasers as a Holiday present.
This erasers package fits perfect in a Christmas stocking.
You can check the price of the Steadtler eraser set on Amazon here.
11 Washi Tape
The Bullet Journal or planner addict in your family loves to decorate his or her notebook and make to each page a beautiful piece of art but they think they are not good at art, no problem; you can buy one, two or maybe more washi tape and you'll make them so happy!
Washi tape has become the necessity for many journalists who love to add some color and design to their journals and planners but they don't want to spend lots of time working on a page.
Washi paper is also the perfect tool to cover small mistakes (I do a lot of mistakes too), you'll never think that under a piece of washi paper there's a wrong letter or a star where it shouldn't be one.
Spring, Summer, Fall or Winter, and many other designs make the washi paper something every journalist will die for!
You can check the price of Washi Tape on Amazon here.
Closing: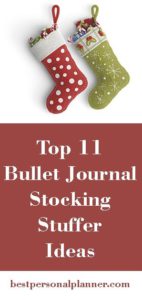 The list to help you to get not just one Stocking stuffer to give a nice present for the Bullet Journal addict in your family a small present with great value can keep going on and on, you can find so many good things that will make her or his so happy!
There nothing like to get not just one pen to write a "to do list" that will help us to do everything we should do in one day or on a special event, but to try a few pens or a fine liner, that is heaven for any journalist.
Finding the right present for every person on your list for the Holidays, sometimes is not easy, but one thing is for sure, once you know what each person on your list love to do, to find the right present for her or for him will be easier for you.
Small things like a fine pencil, a new pen or the perfect ruler will bring a big smile to any Bullet journalist or a personal planner addict!
If you want to find also a nice Holiday present too for the same person, here is a list you can read that will give you a few ideas!
I thank you for your visit and now it's time to leave a comment here and share this article on your Social Media.!