The Holidays are around the corner and it's time to think on what to get for love ones, so let's take a look to the best bullet journal gift ideas 2021
Thinking on what to buy for the Holidays for your love ones doesn't mean to break the bank to make them happy, but to get that gift that will make them happy even if you didn't spend a thousand dollars on it.
Best Bullet Journal Gift Ideas Every BuJo lover wants to get!
Bullet journal and personal planners addicts will be happy with something they will be using all year long and it won't ask you to put your credit card on risk at all.
You can find that special gift from a range of just a couple dollars to the maximum of under 50 dollars, and you can be sure it will be used almost every day and it might become his or her favorite tool to work with while they keep on their love for journalism.
I bet they already have a wish list where you can get inspired, no peek into their bullet journal or personal planner but you only need to pay attention to the tools they use every day while they work on their journal or planner.
As the new year get closer, they will need a new not book to work on, they might start working on it in December, so why not to think about getting a nice new notebook for them as an early Christmas present.
Leuchtturm 1917 Notebook A5 Hardcover Dotted Medium Black
Classic black with 249 numbered pages, 8 perforated and detachable pages, 14.5 x 21 cm, acid free and ink proof paper, two page markers and elastic closure, it opens flat.

The leuchtturm 1017 pages are dotted, which will help you to write or draw on it easier and get creative adding all the doodles you want to each page.
You can work on it with regular pens, pencil, colored pencils, markers, fountain pens and even with watercolors, its high quality paper is good to work on it with almost all kind of mediums for writing and drawing.
You can check its current price on Amazon here.
---
Fabriano Dot Pocket Size Ntbk Warm Colors 4PK
If the bullet journal addict in your family loves to work on more than one notebook, I will suggest getting for him or her this 4 pk of Fabriano dot pocket notebooks, I got mine this year and it has become my favorite notebook to work on as my bullet journal.
Light to carry this notebook is all the time with me, and it's high quality paper allows me to work with different mediums, markers and the ink does not bleed, so I can be as creative as I want to on this notebook.
The cover color on these notebooks makes it more attractive and it will be easier to work on them with different purposes, like personal planner, business planner, creative mornings and even to write about their dreams and goals.
Some notebooks should stay at home and you can carry one of them all the time with you, make from it your agenda and personal planner to achieve your goals and dreams.
You can check the Fabriano notebook 4PK current price on Amazon here.
Pens, pencils, liners and markers.
The bullet journalist or the planner will never get enough of them, they might have their favorite but they will always have a long list of them on their wish list, so you won't go wrong to get one, two or more of them as a Christmas gift for your loved ones.
Pigment liners.
My favorite Pigment liner is the Staedtler 0.3, it's high quality will help any journalist to make the most beautiful drawings and designs in their Bullet Journal or their personal planners, from a fine line to faux calligraphy, this pigment liner will work perfect every time they use it!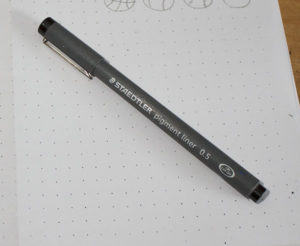 This pigment liner will last almost forever, as the journalist works on different pages to plan their lives or on different drawings, and doodles, they will notice the pigment liner will always work good and will help them to draw from a straight line to the more intricate drawings.
Any journalist addict will become the next Instagram sensation when they share their amazing work on this Social Media platform.
It's price is so affordable that you might get not just one, but a couple of them for the planner addict in your family.
You can check the current price of the Staedtler 0.3 on Amazon here.
You can also get a package of 4 pigment liners and it will be the perfect Christmas gift under $20
---
Fountain Pen.
Feel like going classic when writing?
Nothing more classic and fancy than writing with a fountain pen, make your journal page more attractive with your hand writing adding some fake calligraphy here and there.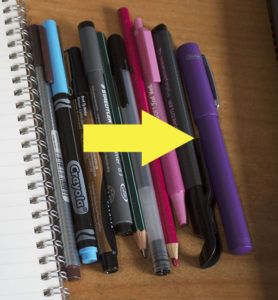 Nowadays there's no rule about the ink color, and fountain pens allow you to go crazy with ink color, from classic blue or black to different tones of purple, red, pink, green and gray!
You won't go wrong with a fountain pen for the planner addict on your list.
Check the current price of the Fountain Pen on Amazon here, it's so affordable that you won't believe its good price!
---
Colored Pencils.
If I need to be honest with you, one set of colored pencil will never be enough for a journalist addict, but as we are talking about a gift for the Holidays I will tell you about my favorite set of colored pencils to work on my Bullet Journal.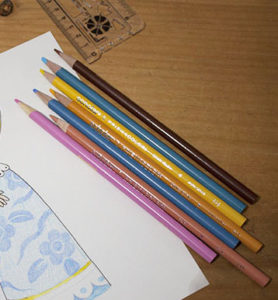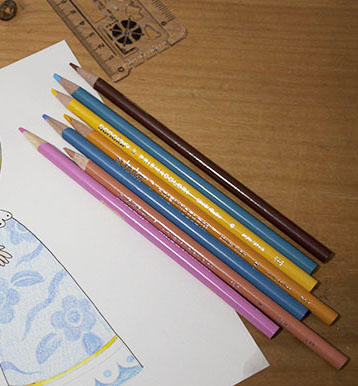 Scholar Prismacolor!
This colored pencils have a high quality that will help any journalist to add some color on their Bullet Journal or their personal planner, some touch of color here and there will help to highlight some points to focus on.
Check the current price of the Scholar Prismacolor set on Amazon.
---
Pen
Moleskin Click Ball pen
You might be surprised that I'm recommending a "high price pen" here, but I can tell you its price won't break your bank account and you can make happy the journalist addict in your family when you buy it for him or her!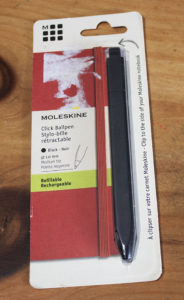 I just got mine and I don't regret to pay its price, I tested and its shape is so comfortable to work with and I'm sure it will become any journalist addicts favorite pen.
It works so smooth and its ink never fails, it shows on the ink, you get what you pay for, this is a good quality pen to work with and make plans to achieve your goals and dreams!
One of its features beside its good quality is, that it has a clip to clip it to the side of your Moleskin notebook, it works perfect with other brands of notebooks.
I got mine in black, but you can find it in other colors like: white, pink, blue, light metal, mauve, yellow, burgundy red, tide green, charcoal gray.
You can find also the Moleskin Ballpoint Refill on Amazon.
Check the current price of the Moleskin Click Ball pen on Amazon here.
---
The art of giving the best gift to your love ones is to find a gift they will use not only once but every day and it will make them happy!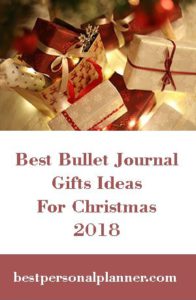 Don't break your bank account, getting the perfect gift to give to the journalist addict in the family is easier than you think, there are plenty of things to buy for them!
People who love to Bullet Journal or to work on their personal planner always have a wish list of products to buy, and they won't cost you a fortune and you will help them to keep working on their journalism every day!!
I hope you can get some ideas to buy that special Holiday gift that will make so happy for the journalist addict in your family with this list, if you find this article has helped you to find the right gift to order online, share this post you will help others to buy the perfect gift on time!