2020 Best Planners to achieve your goals, as you work to write down your goals and make a plan to achieve it, your personal planner can be the best tool to help you to achieve anything you want to have in life!
2020 Best Planners To Achieve Your Goals
As 2020 is here, it's about time to take a moment to think what would you like to achieve in this year.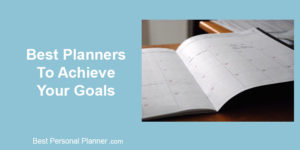 I'm glad you're here because this means you want to work hand in hand with a personal planner to build up a better life for you and for your family.
We are so lucky, and I won't stop talking about this, as we living in this time where we can find so much information about how to build up the life we dream and improve our lifestyle.
There might be many different ways to work on it out there, but I have found working everyday on my planner has made my life easier and better, one by one I can work on my plan and work everyday with less stress.
Before I make a small review on a few personal planners that will help you to work for a better life, I must say as you start working on a personal planner, anyone that you pick will make your life better as you learn how to work with it, some of the benefits that you will see are:
You can plan your next day the night before
You will get less on your mind as you write down every appointment for next day or for the coming week on your planner.
As you write down your goals to achieve, you can work on writing a plan and a strategy to get each of your goals done within the time you set for them.
You can focus on one task at the time, you can write the three important task for everyday, and your life will improve as you work on this.
You will find soon how easy  it is to get more free time for yourself and for your family as you work on the task you get on your personal planner.
The benefits you get by working hand in hand with a planner can be endless, everyday you'll find more to add to this list.
What does make a planner the one for you?
If you're thinking on getting your first planner, you might need to read a few planners reviews to find the right one for you.
If you get to work on your first planner and you see that it is not the best for your needs, don't feel discouraged, you might need to work on two or three before you find the right one for you, your lifestyle and your professional work.
---
Leverage positive psychology for productivity and happiness, this will help you to keep working with commitment, feel inspired and live a happier life everyday, you will work with mind map and vision board to drill in goals and fully engage with both sides of your mind, you won't lack of motivation, focus and get results as you work with this planner.
The Simple Elephant system will help conceptualize your goals, organize priorities, and hold oneself accountable overcoming procrastination.
Over 670 reviews on Amazon.ca give this planner 4.5 stars.
Check Today's Price on Amazon.com
---
If you're looking to work on a planner to get results month by month, the Path 1 Month habit Planner might be the planner you're looking for, it will help you to break down your goals into a month plan, you will work on three daily task to achieve any goal.
Designed with proven midset success neuro-programming life into your PERSONAL COACH that is supporting you every day to achieve more.
If you want to break off on habits that keep you off the road and get the habits that will help you to achieve your goals, this planner includes a daily section to help you to keep on the good habits.
You can read about 200 reviews on Amazon.ca that will tell you why people choose to work with this planner to improve their lives.
---
This planner will help you to get everything done, with a practical weekly layout where you can plan your week work with task to do, task to delegate and goals setting.
You won't miss any appointment with the help of the weekly layout as you can write everything on each day of the week by the hour.
You get a year goals setting layout, so month by month you can work on it make your plan and strategies to achieve any goals you want for 2018
EXTRA FEATURES: Expandable inner pocket, elastic pen loop, bookmark ribbon, elastic closure, 27 pages for note-taking
Product Dimensions: 20.3 x 15.2 x 1.8 cm ; 372 g
Shipping Weight: 381 g
Check Today's Price on Amazon.com
---
This small 365 Days Daily Weekly Monthly Planner Cute Personal Diary Hard Cover Office Notebook Stationery will help you to work according to your plans in order to achieve each one of your goals for 2018.
5 stars reviews on Amazon.ca will let you know people who have bought it and are pleased with it.
It has two page year layouts where you can plan your year goals month by month.
It's hard back gives it a professional look and will help you to write on it wherever you are, the premium paper has great quality that reduces ink bleed through.
Great for keeping organised, planning tasks and keeping track of any goals you set yourself.
155 pages of 2 day columns containing 15 lines and a blank box with the date and day above to be filled in, it has also 30 free pages for you to take notes or write a plan or strategy.
It comes in 8 different color where you can pick the best for you.
Check Today's Price on Amazon.com
---
Blue Sky 2020 Weekly & Monthly Planner

If you're looking for a 2020 A5 size planner, with weekly and monthly layouts ready for you to fill them out as you keep working on your goals and plans to make the best year, you don't need to look for more!
It has high quality paper so you can write down all your notes, appointments and goals with your favorite writing tool.
You have also on this planner the important dates during this year and the next 2 years, so you can plan with time your vacations, and your business plans, make it happens!
Planner details:
Product Dimensions: 8.5 x 11
Cover : flexible
Shipping Weight: 1.02 pounds
This is an A5 size planner, if you have regular hand writing this planner will be perfect for you to keep it simple.
Check Today's Price on Amazon.com
---

Closing:
I hope I could help you to find the right 2020 planner for you, so you can work on it all year round and make every goal you have in mind a reality!
Best Personal Planner readers also read:
Panda Planner – Best Daily Calendar and Gratitude Journal Review
Disclosure: Some of the links in the post above are affiliate links. This means if you click on the link and purchase the item, I will receive an affiliate commission. Regardless, I only recommend products or services I use personally and believe will add value to my readers.