Best Gifts For The Hygge Enthusiast will give you an ideas list to get for the people on your list to get a gift for the Holidays who love to stay at home and enjoy the moment
In a few day's more, winter will be here, short and cold endless day's, to keep the joy of life, Hygge can bring that touch to your life.
Best Gifts For The Hygge Enthusiast
From my window all I can see is the white snow everywhere, living in Canada is not hard to wake up every morning during this time of the year and see that the temperature will not get any warmer, not today, and not tomorrow.
When I talk to my friends or neighbors, everyone talks about the long and cold day's and one common question is when will the winter end and Summer will be back.
Counting the day's until next Summer can help you to get more winter blues and not enjoy life at all. Changing your mindset will help you to focus on the good life for you, and time will go faster.
It's time to think about staying at home for the winter, but you can do a few things to make your house a cozy home and get the best during these hard weather months and enjoy more of your life.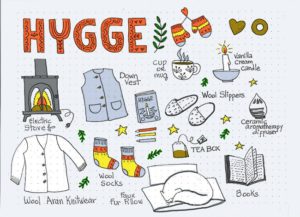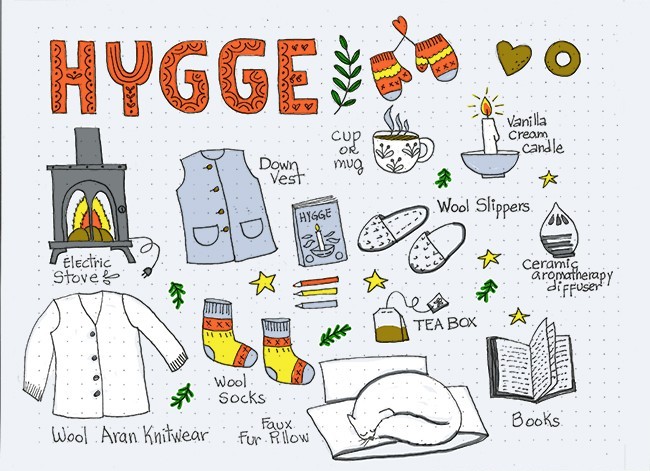 It might be the first time you hear about "Hygge", but you might have heard about the Nordic countries and the long and hard winters they have, one question for anybody who lives in other countries could be "how Nordic people can live there with such a hard winter weather for almost half of the year"
They have "Hygge" to help them to get the best of life during that time of the year, and that is something I have learned, winter weather can be not nice at all, but my home can be nice and cozy every day!
Today I will share with you a few things I do to keep my house cozy to turn it to a little "Hygge":
The first thing I got, was the little Book Of Hygge, from it I learn about the concept of comfort, coziness and warmth, with this I can pay attention to my self-care.
From the Little Book Of Hygge "Hygge has been called everything from "the art of creating intimacy". "Coziness of the soul" and "the absence of annoyance", to "taking pleasure from soothing things", "cozy togetherness", "cocoa by candlelight". Making a few changes in my lifestyle, Hygge is about the atmosphere and an experience, making a home nice, cozy and safe for us.
I know I will spend some time inside, so I did a list of things to do at home to make it more inviting and comfortable for us, it's not a small list, but it will help me to give my home that atmosphere that will invite us to stay inside and get the best of life during winter.
---
---
Best Gifts For The Hygge Enthusiast that Everyone will Love to Get!
---
Electric Stove
House can get cold when you live in the country in Canada, getting back home after a long day at work, nothing better than to turn on the electric stove and give the room that cozy atmosphere, I love how the Electric Stove looks like in my home and it helps to keep the room warm and cozy
Vanilla Cream Candle
Winter day's are short, if we are lucky we'll see the sun shinning, but sometimes we spend day's without seeing the sun in the sky at all, some day's sky will turn white or gray; it's all about lights, a well illuminated house will help us to focus on other activities inside and not to think about the weather or the seasons.
Candles will add that cozy touch to any room, whenever I plan to spend some time reading or doing some work on my Bullet Journal, I will always be sure to have a Vanilla Cream Candle close to me to give me some more light and coziness.
Cabin Plaid Flannel Throw
Nothing will invite me more than to spend some time reading in a comfy chair or on the sofa a good book as the Eddie Bauer Cabin Plaid Flannel Sherpa Thow, it will keep me warm during those cold day's of a Canadian winter while I enjoy reading a good book.
Feet can get cold easily during winter, getting a comfortable pair of Acorn Socks will keep my feet warm during these cold day's at home.
Pawaca Chunky Knit Acrylic Blanket
Oh, nothing will help your home to look to those amazing Nordic homes as the Pawaca Chunky Knit Acrylic Blanket, winters day's in Canada are short and the night arrives around 4 pm, when I'm back at home after my day at the office, I love to have a homemade dinner with my husband and after it, I love to watch some T.V.
The Pawaca Chunky Knit Acrylic Blanket is always a must to keep me warm while I watch a good movie or series on Netflix. This always help to make winter day's better and shorter.
Ceramic Aromatherapy Diffuser
When you love your home keep that fresh and happy atmosphere, nothing will be more helpful that a ceramic aromatherapy diffuser, it's well know by many people how the good aroma in your house can help to make it cozier, thinking about living indoors most of the time during winter, nothing better to keep the atmosphere fresh like a ceramic diffuser.
I love to keep it close where I spend some time reading my book or doing some coloring on one of my adults coloring books, the ceramic diffuser always helps me to feel better while I'm busy working on something else.
Brentwood Mongolian Faux Fur Pillow
When I think about a comfortable room to spend an evening reading or watching a good series on T. V,, I can think of a comfortable chair with a good pillow, nothing better than a Brentwood Mongolian Faux Fur Pillow it has the amazing and luxury look without hurting any innocent animal, and it will keep me comfortable to spend winter day's indoor.
One is never enough, so I always love to have at least two or three, just in case I need to share them with a visit, as we get some day's company.
Glerups Unisex Wool Slippers
Nothing will help you to keep yourself warm and cozy as a good pair of slippers, I love how the Glerups Unisex Wool Slippers are always easy to put on and take off.
WISSOTZKY Magic Tea Box, 80-Count
Nothing better that a cup of hot tea, but when you have a Wissotzky Magic Tea cup, it's very good.
Mountain Hardwear PackDown Vesta – Women's
Nothing like a good down vest like Mountain Hardwear PackDown Vesta – Women's, this vest will keep you warm no matter the temperature outdoor,
If you want to buy a Mountain Hardwear PackDown Vesta for men
Irish Merino Wool Ladies Aran Knit Flared Coat Knitwear
As any house can get a little chilly during winter, an Irish Merino Wool Knit Flared Coat Knitwear will help me to keep myself warm without the need to turn on the heather or to add more logs to the wood stove, it's better to put on a cozy Irish merino wool sweater, and it looks fantastic.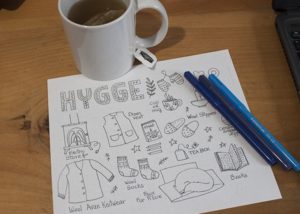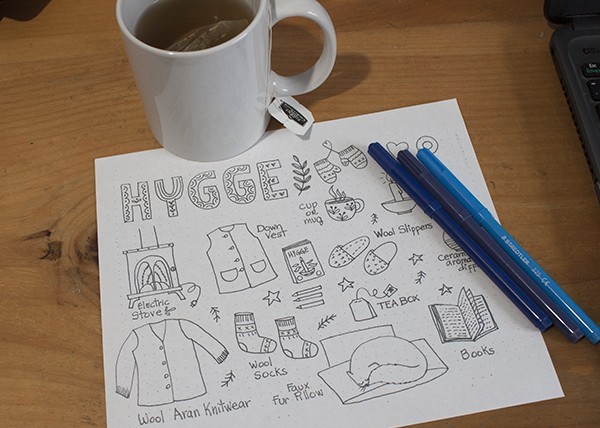 Hygge Adult Coloring Book
Nothing better than to keep yourself busy adding some color to this amazing Hygge Adul Coloring Book, as you keep working on it you will get to know more about what's make of Hygge.
Coloring books are great to have at home, there are some day's when winter turns long and it seems like it will never ends, and that things on your To Do List are all done, you might need to get something different to do to help you to keep yourself busy and stop thinking about "when winter will come to and end", a coloring book or maybe two will be there ready to keep yourself busy and creative.
After you finish to color one page or more, you may want to take some pages to display them as art on a wall.
Adult coloring books are not only for adults, kids will also love to add some color to one or more pages, you might end with a beautiful wall full of art, so winters are not so bad, after all, winters might help family to get creative!
>>> You can download the Hygge coloring page FREE Printable here <<<
(Note: this free printable is one copy of the coloring page I made for my Bullet Journal, feel free to download it and add some color, you can make as many copies as you need to, if you want to share it with your family or friends to help them to find something to do on those days where is impossible to go outdoor because the weather is too cold or too snowy)
Hygge Happy Coloring Book
I'm sure you will love as much as I do this Hygge Happy Coloring Book, here there's another idea of a good coloring book to get this winter.
The Hygge Game
The short and cold winter day's will go faster when you play the Hygge Game, I never get bored from having fun why I play some games with my family or with some friends when they stop for a visit and the weather turns bad and they need to stay with us for a few hours more.
Board games are always there to help a family to have some fun when the weather is not good enough to go outdoors, you might have already some games at home, but getting a new one is always a good idea, to have a few games at home will give you the chance to pick one for every time you want to play.
---
How to Add some Hygge to your life.
---
It wont't matter where you live, we are so lucky to know today about Hygge and the benefits to life hand in hand with the Nordic smart and cozy way to live and enjoy every moment life can bring us.
It wont't matter if the weather is too cold outdoors and you need to stay indoors day after day during winter, when you add Hygge to your life, you will learn how to enjoy those moments and make the best of it.
Life can be nice all the time when you focus on what you can do and when you focus to make the best of it.
So here you have a list of things that will help you to bring Hygge to your life, but the most important thing is to change the way you see winter, and make the best of it.
This list of things will help you to make some small changes around your house to make it cozy, and these things will remind you that life can be nice and cozy no matter how cold the weather is outside and it might stop you to go outdoors and have a day in your backyard, it's time to make a list of a few things to do indoors that will help you to keep yourself happy while outdoors is winter.
So here I am, in a small log cabin in Canada, writing this article when the weather outdoors is -15C and is not yet winter, but my house is ready for winter and so am I.
Wishing you to make the best of this winter, make the best of it.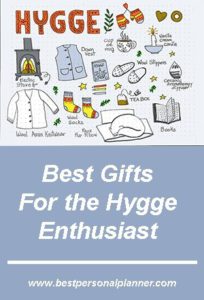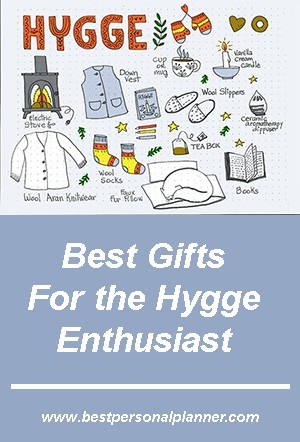 If you have any questions about this article, please leave your question on a comment and I will reply to it shortly.
Now you can follow me on my new Facebook Fans Page, when I share some moments from my life and how I work on my Bullet Journal to make the best of it.
If you want to bookmark this article to come back later to read it again or to share it with a friend, you can save it on your Pinterest account, so you can find it later.
>>> You can start your own Bullet Journal Today, take a look to my best notebooks to start your Bullet Journal here<<<
You can read too:
Thanks so much for Pin it and share it!