Even you might think 2017 was not a perfect year, I will help you to find a few reasons to be happy and thankful about it!
Day after day we are to listen to so many bad news about how the world is turning out, life changes so fast, sometimes I just want to find the way to be able to stop the world turning so fast and find the way to make life better.
Well, there's a way to start making life better, I won't talk about a magic wand to just change everything bad into nice and good in just the count of one, two, three… Voila, there you have!
All you need to find a few reason to know you had a great year is a note book or your Bullet Journal, a pencil, an ink marker and some colored pencil.
How to make a better life.
Close your eyes for a moment and think about all things that might help you to have a better life… ok, now you can open your eyes and keep reading.
Each one of us have their own wishes and desires for a better life, yours might be different from the idea I have about what is a "better life", but I won't say anything about whatever you thought about two minutes ago it's impossible, because as you know, everything is possible.
If you dream about it you can make it.
Whatever is in your mind, it can become a reality, so don't be shy to think and dream about what you want in your life.
We all know we should not be shy to ask, if you're want to ask for a new house, don't ask for "at least a little house" ask for the house of your dreams!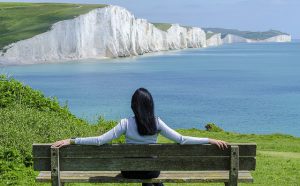 Living with Gratitude.
This year I have been working to live with gratitude every day in my life, as a way to be able to notice all the good I already have in my life.
I read about how life can be changed for whatever point in your life is to a better life a few months ago, and I got to work on it, every day, as my daily routine a moment to think about what good I have in my life and be thankful about it.
It won't take more than a minute or two to do it, and you can spend your day with a feeling that you're doing good.
If you have a roof on your head
If you have a hot soup
If you have some clothing to wear
If you have a job
If you're here reading this article means you're doing better than many people, and you have a wish to improve your life!
How to know your year was better that you thought it was.
Today, as a part of your Bullet Journal or your personal planner I would like to invite you to work on a writing exercise to help you to know there is more than one reason to be thankful about this year that is about to finish.
There's a few things you can work on to see you did great this year and you can write on your Bullet Journal things you can do to do better.
Don't let anyone  tell you you're not good enough! because you do many things right everyday!
Thanks 2017!
1 With one word, define your 2017
Here's some words that might help you to define your year: good, great, bad, sad, creative, focused,
You can also define your year with more than one word: achieved some goals, getting better.
2 Call someone to tell him/her how great they are
Don't be shy to call to that person who would love to know you paid attention to what they are doing and they are doing great.
You don't need to wait until someone achieves something important, for many people daily task require more work from them, give them a thumps up today!
3 Write what you did this year, that you thought you weren't good enough to do it!
This is important, when you go day by day you might forget to look back and see what you're able to do, you might have read more than one book, you might have started to do some exercise (you don't need to run a marathon to know you did good), you might have started to eat better or to wake up earlier, you might started your own blog and it's getting better.
4 Do something nice to someone you don't know.
There's a few coffee shops or cafeterias that during this time they accept you buy an extra coffee and when someone gets there with no money they will give the coffee you paid off to them.
You can go to the groceries stores and get a few extra food to giveaway to families that can't afford something nice this time of the year.
You can smile to someone on the street today, it might be something different to them.
5 Write the name of that person that helped you out to make this year better.
Sometimes you might discover that the person that made your life better it was yourself, when you start to work on a bullet journal, you will find it will help you in many ways to do better, you will get more organized, you will be able to set your goals and you will achieve them one by one, you will know what you love to do and what you don't love to do.
Family, friends and sometimes that person you never thought might help you, have gave you a hand to make this year better, just write its or their name! it will make a difference for you!
Work on your Bullet Journal.
Writing about the good you do to other people on your Bullet Journal will help you to know you care about others.
If one day you need to know you're working to build up a better world, go back to your Bullet Journal and read this page!
If you do this writing exercise and you blog about it or share it on your Instagram or your Pinterest, write a comment I would love to visit your blog.