When you decided to get organized your life will be simpler and you'll have more free time.
Thousand of things to do everyday and only 24 hours!
Thousand of things to do and no idea where to start!
Before I start I feel so tired!
The first thing on the list will take me more than a day to do it!
I wish I could do one thing at a time.
The day is over and I didn't do anything!
I can listen to myself three years ago telling myself all those sentences every day. I just did a clean up on my desk and for my surprise I discovered all the Personal planners I have now.
I started my first one three years ago, like a hobby, to keep track of my job, as I work part time on call, I thought it could be a good idea to get an "agenda" to keep track of my work appointments so I didn't miss any.
I got a "cheap" agenda and I began to work on it, soon I discovered an agenda didn't work for me the way I use to work.
I was looking to find a way on the internet about how to get organized and keep track of all the different appointments a woman needs to attend these days, and I began to read about "Personal Planners"
A Personal Planner is made for each person.
Not a single personal planner is the same for everyone! each one of us has their own life, and each one of us live and work there own life, so our needs are different.
And the need to get organized is personal, and this is why I love to keep my own Personal Planner.
To tell you the true, I would love to find one made right perfect for my needs, with a beautiful design and layout that works for me and the right price too.
If you're here it's because you're also looking for a way to get organize and do more with less work, and I can tell you this way it works perfectly.
My first Personal Planner.
It wasn't perfect, I think it just was a bunch of paper where I could design a layout for a week and when my boss told me about the days and times she will need me that particular week, I could write all the information down and I could place that paper on my desk so I couldn't miss one, and it worked fine.
I just couldn't find one paper one day! and that was not good at all!
Looking for a spot to keep all the papers in one place and looking for an easy way to find the right paper for each topic, it was the time where I found out there are many tutorials on the internet on how to make my own Personal Planner from scratch.
Personal Planner Tools.
They are not expensive tools and maybe you already have them all at home.
White paper for the printer.
At home, we use to buy the printer paper by the package, I just look for a good quality paper.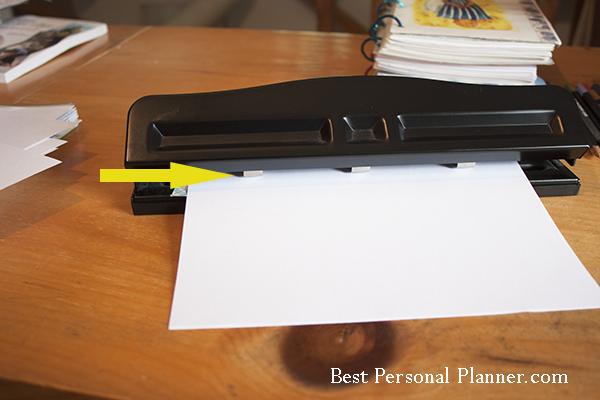 To punch the paper I had at home a single hole punch, so I started to work with it, but it can be hard on the hand when I needed to punch a few paper sheets, so I got one hole punch for students at the dollar store, and it works fine when you need to punch one or two paper sheets or regular paper.
But when I'm working on the papers I need for blogging I need to punch more paper sheets or when I work on getting ready my sketch notebook for my personal planner (yes, I also like to have a few sketch paper sheets ready on my personal planner) and this paper it's a little bit thicker so it makes harder to punch it on a regular tool, so I got a better one, not expensive but it works much better.
At the beginning I used to fold A4 paper on the middle and I used to punch it double and place it this way on my planner, and it worked fine for me.
You can buy a puncher that makes 3 holes on the paper and you can set the right position for each one, then every time you punch a paper sheet you will get the holes the same way.
I use to place a little piece of tape where I place the paper in the puncher, so I get the holes where they need to go, and my planner is good all the time, no paper here and there, no if you follow this step your planner will be even all the time.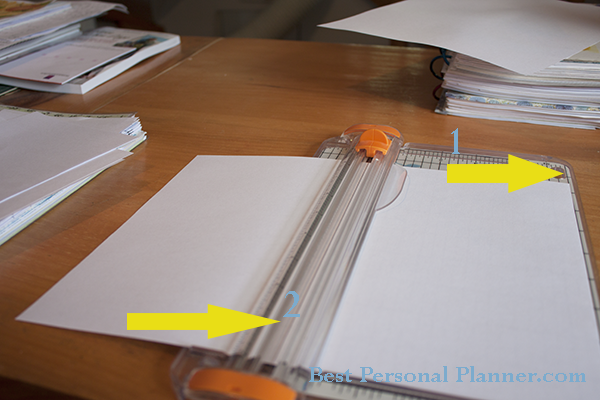 Then I got a Fiskars cutter to cut the paper, and oh my! I discover it works much better for my needs with the planner, so now I always cut the paper in two first and then I punch each paper.
It was the time then to find the way to get all the pages together and this needed to work perfect whether I keep the planner on my desk or whether I take the planner with me in my purse when I go to work so I can write down a new appointment or something my boss tells me I need to work on it, this way I don't forget about anything!
On the photo I show you this cutting paper machine works perfect, one or two paper at the time to keep in shape the machine, if you try to cut more paper at a time, the knife won't keep sharp as it should be and you can buy new knife for it, but if you cut one or two paper sheets at the time I found the knife last a good time in good conditions.
You will find also, the machine has marks so you don't need to make any marks on the paper to cut the same size every time, you just need to place the paper as I show you on number 1 and the cut will be made just in the middle of the paper, number 2, and you will get sharp cut on the middle of your paper every time you use it.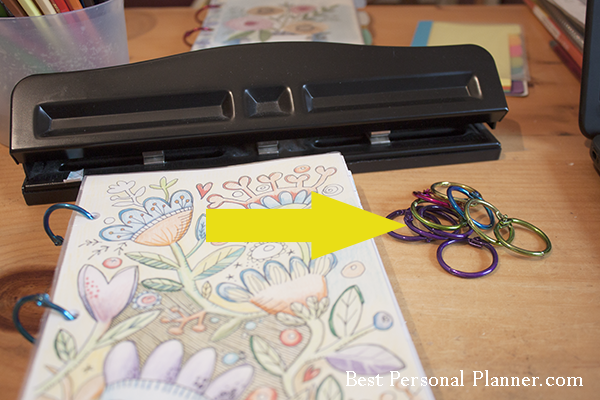 I also carry my planner when I travel, and it needs to good wherever I go, so I found the rings system works perfect for me, it's not fancy but it works good.
Anytime I get short of pages, I just get more paper, punch it and add it to my planner and I can keep working with it.
You can check if this way to make your own Personal Planner is good for you.
You can get inspired by how to make a layout for your day, week and month on the internet, as you can find many good layouts for free.
I will be sharing with you the layout I made for my own, but I can't share them all in just one post, and this is an invitation to make my blog on your favorites and you will find the layout you were looking for soon.
You might want to read:
How to start your Bullet Journal.
How many planners do you need.
To do lists to make this Summer.
. Disclosure: Some of the links in the post above are affiliate links. This means if you click on the link and purchase the item, I will receive an affiliate commission. Regardless, I only recommend products or services I use personally and believe will add value to my readers.
…….