It's not hard to  get more organized and work smarter than harder, today I share these best bullet journal tools  for 2018, that will help you to achieve your goals.
If you're new to Bullet Journaling, as you work on it you'll find how to plan your to do list of different task to do in your life to get everything done and avoid procrastination.
Get organized and plan in advance your days  as it will help you to know your task to do everyday to help you to reach your goals and have more free time for yourself and for your family.
Why to start a Bullet Journal?
If you're new to Bullet Journal, you might know why starting a bullet journal is a good idea, well I could tell you that trying to keep all those things you need to do in one day in your mind can be too much and as the time passes you will notice you're always busy and then day after every day you might feel tired and it can seem you did just a few things.
When you work hand in hand with your BuJo, you will learn to plan ahead the task you need to do for the next day and you can see your to do list on paper, this will help you to pick the 3 tasks to do first thing next day, those 3 things will be those task to work on that will improve your life.
To start journaling you might have all you need at home already, even an old notebook, forgotten in a drawer is good as a strating point, a pen, a pencil; and you're ready to start.
As you keep working on your BuJo, you might want to start working in your own way, this means, you want to start adding some color to your pages, you will start to write titles and headings more creativily, you will master the art of setting new layouts.
How to start.
Creativity will find you while you work your own way, at this point you want to find some new tools to help you to work on your journal better, faster and more you! I have a post about 6 tips to start your bullet journal that will help you to draw amazing layouts and never again be afraid to draw a line on any page.
Today I share the tools I have at home to work on my Bullet Journal, you might find these tools will work also for you, to find the right tools for you, you'll need to try some of them until you find your favorites.
The best thing about bullet journaling is you can make it your own way, within time you'll discover your own voice and your own style, don't be afraid to start, the white paper you have in front of you it's only a pice of paper, at the begining just make the first step, draw that line with a pencil, then the second and keep at it, once you get the layout you want for that specific page, draw over the pencil with a pen, add some color with colored pencils or markers and your page will look great and ready to be filled with all the datas you want to write down on it.
You can start your bullet journal to get more organized on your personal life and on your work.
As you work on your personal life, you can consider to work on yourself, your family, your relationship, your friends, your life spirituality, on your dreams, don't be afraid to wish big, write everything you think you wish for, make plans and keep on it until you get a better life, that is the main goal of journaling your life!
On the other hand you will have your work, don't be afraid to wish for better goals, more of this and more of that, you'll learn how to break those big goals into a smaller pieces and make a plan to achieve each one of those smaller goals you made so you can get every goal in your life year after year!
There are a few on the market where you can pick one as your favorites, but mine is Leuchtturm 1917 Notebook A5 Hardcover Dotted Medium Black, it comes with 249 dotted and numered pages, as its pages are dotted it will help you to draw the layout and tables in an easy way and less time consuming, it's size is perfect to have it at home all the time or to take it with you all the time as it will fit perfect in your purse or bag.
The paper is of high quality and it allows you to work with fountain pens and roller balls, you can use them and they won't bleed on the paper. You can pick one in black or on your favorite color as it comes in 12 different colors.
Notebook
You can start your first Bullet Journal on any notebook, I'm sure you might have already one old notebook at home, you can start doing your first pages layout on it, try some until you find the one that best fits for your own planning needs.
As you work on your first notebook you can try different pencils, colored pencils and different pens as the regular or rolled poing and gel pens or try to go more stylish with a fountain pen.
Once you feel comfortable with that old notebook, you might one to get a fancier notebook for your Bullet Journal, my favorite is BookFactory Black Journal / Writing Notebook / Blank Diary / Lined Pages Book.
It comes with 192 lined pages, on 5A size (5.25 x 8.27 inches), it has a hard cover that will help you to write on it anywhere, you can find it on black, blue, green, red and grey, good paper quality, it comes with a bookmark to go back easily to a page, the ink from a fountain pen won't bleed on its paper, and as a plus it comes with elastic closure
Staedler pencil set.
Any pencil that you have at home will work ok on any notebook or on any journal you get for your bullet journal, but I have my favorite pencil to work with and I'm going to explain why after using all kinds of pencils, I won't get a different pencil than staedler pencil to work with.
I find Staedler pencil are high quality pencils to work with at any time, it's premium quality makes these pencil perfect for writing, drawing or sketching, and you know you will be drawing and sketching on your BuJo a lot, another good thing i like with these pencils is that they are easy to erase on any paper, to help you to work with these pencils and not leaving any mark on your paper after you erase the pencil from it, use HB or 2B pencil all the time, my favorite is 2B pencils and I use them all the time. You don't need to work hard to draw as they draw perfect all the time.
If you pick to work with H, H2, H4, H6 pencils to get thiner lines for your layout before you add some ink on them, I will suggest to work very lightly while you draw the lines on the paper, as when you work adding some pressure with the pencil on the paper, it will leave line marks on the paper even after you erase it off. This is why I prefer to work with B2 pencil all the time.
I always have a few different sets of colored pencil at home, this coloring method has become my favorite and I will use it all the time as I can work adding layers of color to my layouts.
I have tried from the best quality european colored pencil I've ever had, Rexel Cumberland Derwent Studio, when you draw with them, it's like walking on clouds!
I'm also fan of Prismacolor colored pencil, they have a very good quality and you can buy the smaller package of 12 pencils as a beginning point.
Lately I bought the STAEDTLER 185 C24JB Coloring Pencils, Exclusive Johanna Basford Adult Coloring Edition, and I'm happy I got them, these colored pencil are great to work with.
These are premium quality colored pencils, this box comes with 24 brilliant colors that will help you to add color to your layout, and they are made with recycled wood that makes them more environment friendly, these colored pencil have an hexagonal shape that makes them the best comfort to work.
Easy to sharpen and the point doesn't break easily,and easy to work with them as they add enough color layer to any paper, I'm sure this is a good buy and these colored pencil will last long.
I have been using these liners for a long time, even before I start working on my personal planner or BuJo, and I won't change them for other liners.
You can find these liners on 6 different line widths, as they come with permanent, indelible and water resistant ink, you will work fine on any paper with these liners.
After you draw with these liners, if you want to add some color with some watercolor paint, don't be afraid to do it, as the ink won't bleed when you add the watercolor layer.
If you want to work adding some color with markers after you draw the lines, it will be OK, the black of the liner will stay bright on the paper.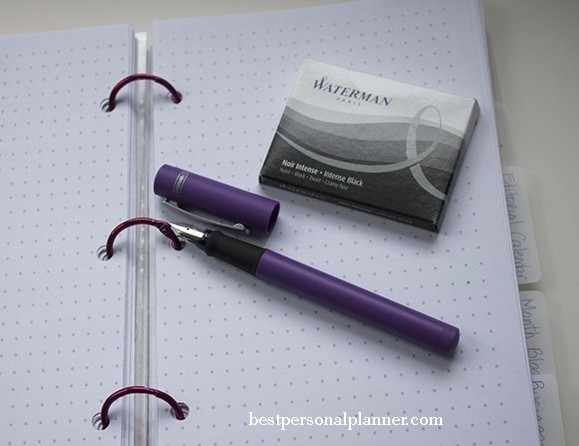 I don't even remember when it was the last time I used a fountain pen, it was a long time ago, but one thing it's for sure, fountain pens are back!
I was lucky to get one as a gift from my sister last year, a few weeks ago I got some ink to try it, OMG! writing with a fountain pen it's like walking on clouds!! It feels amazing, even my fountain pen is just a regular one that didn't cost much!
Since that day I tried it, I keep it on my desk to use it every time I need to write something doesn't matter if it's my BuJo or on a notebook where I look for some information on the internet, or if I want to write a simple note!.
You don't need to get an expensive one, price can be expensive for the good fountain pens but if you want to give yourself a treat you can get one and try it, I'm sure you'll like it.
Pilot Fountain pen with ergo grip, extra fine nib. clear body
looks like a good fountain pen to try, and price is not expensive,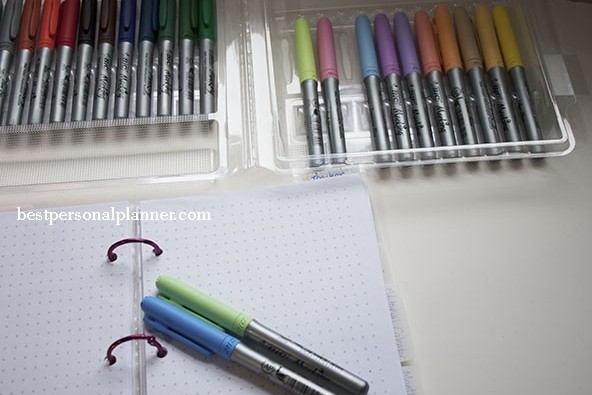 If you want to add some color on your pages that look like prints, your best options is this set of 36 markers with permanent ink, with a ultra fine point that help you to draw fine lines for you as you fill up the area you want with color, its ink won't leave any marks at all and your final design or drawing will look exactly as if you wont it from an already printed stamp or sticker.
These markers are perfect for adult coloring books, this makes them perfect for you to work on your planner or journal.
You can use these Bic markers to add color to your doodles, art projects, coloring pages and of course you can use them to add some color to your plans, goals, to do list and everything you're working on in your BuJo.
Great color reproductions, blend together pretty good, you can use these markers at the same time with other drawing and painting techniques.
I only find one "Con" for these markers, as you color on regular paper, ink will run through the paper, you can see marks on the back of the paper, if you want to use these markers on your Bullet Journal, be sure to place an extra piece of paper under the page you're working on, or you'll get the ink on the next page.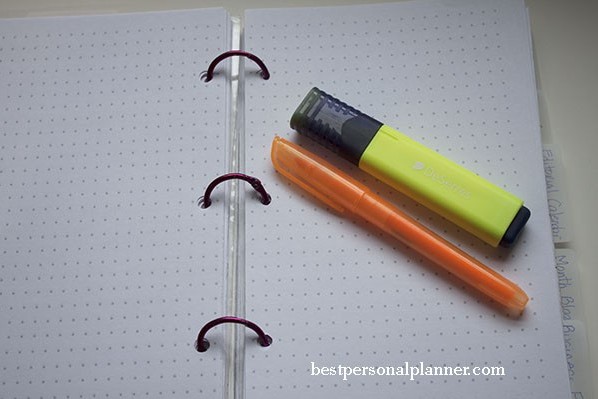 You'll need to get a set of highlighter with your favorite color to highlight important things as you work on your planning for next day, week and month, or when you're working to make a plan or strategy for a project.
As you might know by now, as you work on your BuJo, it will be easier to have a color code to work with, so you will need a set with all the color highlighter you'll need.
AS color is used to highlight task to do, or appointments, people will use them according to their needs, you'll know what areas of your life you want to work on in your planner and you can set in advance what color will go with every area of your life. Some of the most used color for planning are:
Yellow – finances
Green – kids
Orange – house work
Blue – sleep
Pink – Me
Purple – work (blogging)
Orange – exercise
This is the name of a design tape we use these days to add some decoration on our planners, you can find them in solid color to help you to highlight an area of your layout of your planner, or even to write on it, it will help you to decorate a page in a very easy way.


You can buy washi tape with all kind of decorations, there's a wide range of decorations as for every season of the year, or any celebration.
Soft color, pastel color, bright colors, with lines, strips or dots.
You can find washi tape that will help you to get more organized, like those with little squares or dots where you can work to write a to do list, and you can check on the squares or dots as you work on every task.
If you need to add some motivation quotes to your pages, you can also buy some washi tape with motivational quotes already printed.
I will recommend you to get a good pair of scissors to help you to cut any kind of paper, tape, washi tape or even fabric, I'm sure as you work on your Bullet journal, you'll get more creative every day, and before you can notice your'll be creating amazing layouts with your own signature.


Why to buy a cheap pair of scissors when you can buy a good pair of scissor for a few dollars, my favorite brand is Fiskars, I need to admit it, at home I have one pair of scissors Fiskars for kids, I have been working full time with them cutting both paper and fabric for the last 4 or 5 years and my scissor still work as I had bought them yesterday, I don't have any complain at all on them.
It's size is perfect to have them always in one of my pencils containers, and if I have to go on a trip, I can bring it in my bag with no problem at all.
Bookmarker
Some of the bullet journals you can buy in the market have already a bookmark with them, so you can find that page with no problem next time you want to work or check your day's plan, but if you're working on a regular notebook, you'll need at least one bookmark.
You can make one by yourself with a piece of paper or carton, but you can also get one already made, I won't talk much here about bookmakers, as you can find many different designs anywhere, but if you want to make one by yourself, you can find some great ideas to make one on Pinterest.
Pencil case
If you love to be organized, BTSKY® Handy Wareable Oxford Colored Pencil Bag 72 Slots Pencil Organizer Portable Watercolor Pencil Wrap Case (Black) will have you covered.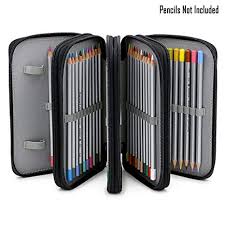 Everything you need for your Bullet Journal will fit perfectly on this pencil case!
Every pencil will have its individual holder, as elastic straps holds each pencil or pen, and it prevents them from falling.
A great way to keep and carry all the pencils, colored pencils, and pens you need to work on in your bullet journal and keep everything in one place.
---
Pencil Case Holder Slot
If you're looking for a case to keep everything in one place, your pencils, colored pencils, markers, pens and even your journal, planner, or your bullet journal, you will love the Pencil Case Holder Slot
It has a large capacity to hold up to 202 pencils or 136 Gel pens, it has multi-layer compartments, it's made of great quality material, it's made of strong polyester oxford material, and it's stain and water persistent, and you can clean it easily.
It's made not only as a pencil holder, you can use it also as a portfolio for other uses, it's perfect to carry a sketch book, documents, reading material, or even to carry your tablet.
Closing.
As you work on your Bullet Journal, you'll find out what works better for you for setting your goals to achieve, how to develop the best plans to achieve those goals and you'll find the best strategies that will make your work easier and you'll be doing more with less work in less time.
Tools will help you to set your plans easier on paper, you will find what tools work best for you, and which won't.
This guide is made to give you an idea of what I use, I try to keep it simple, but within time you will learn more about how to set a layout and make a plan with less and better tools.
Try to use the tools first that you already have at home, and one by one try to buy the tools that you know will work better for you.
Tools are made to simplify work, the Bullet Journal is one of the best tools we can have to help us to do our work better in less time with better results.
It's Time For You To Start Your Own Bullet Journal
Now that you have the best Bullet Journal supplies, you might want to get some inspiration and ideas to start working on it, I've been working for a couples of years and you can follow the steps I do to do each month set up here!
If you have any question about this article, please leave a comment and I will answer to it.