If you have a 2018 resolutions list, don't let the time go by to fast and make it happen this year.
That is my plan for this year, I'll make it happen for everyone of my resolutions list for this year, it doesn't matter if it's for my personal life, for my job or for my dreams, if I make a plan it will happen.
My basic plan is to work on a plan month by month and week by week, if you have a big dream to achieve to improve your life or your job, it's better to set some smaller goals for a smaller piece of time: months and weeks.
MATERIAL USED
Breaking down the big goals
Many people will tell you that you're capable to do anything you want to, and I can see it everyday, I see people reaching their goals one by one.
So what makes the difference from one person who is capable to make her or his dreams a reality one by one, to another person who never will do it?
A dream without a plan is just a dream.
Since I started to work on my Bullet Journal or on my Personal Planner, I've seen the difference of just thinking about one thing I would love to do or to make, and next day I don't even remember it.
As I can look to my past years Bullet Journal, I can read on them how many things I've done, some small goals and some bigger goals, when I write my goals on paper I always can go back to read them and keep working on them.
But this year I want to go better and bigger! I don't see any reason why not to dream bigger.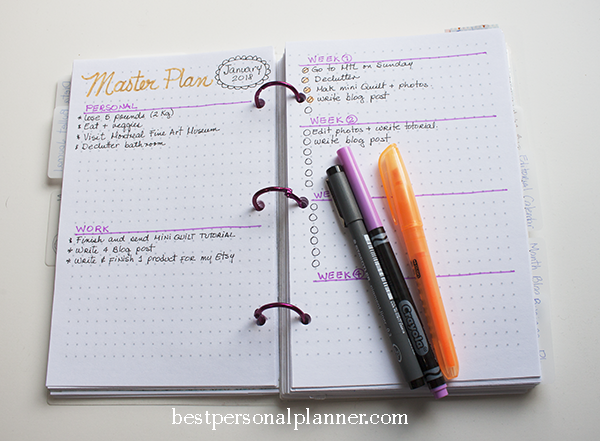 My plan is to have a Master Plan on my Bullet Journal.
First thing to do is to take each one of my resolutions and write down a goal for it, after doing it, I will make a plan, this means breaking down the big goal into smaller goals to achieve every week.
Month planner template.
To design a month planner template on my Bullet Journal won't take more than 5 minutes the first time, every week will be easier as I already have the template, if you want to do it, you can design your own template or copy mine and make one or more copies of it.
If you find this template works for you also, then you can make more copies to add to your Bullet Journal, if you find out you need more things to work on your plan, you can design your own template according to your needs, this is the great thing about working day after day on your BuJo, as you go you'll see if a template is ok for your needs or if you need another kind of template or just adding something to it, it will work better for you.
On my Master Plan I will work on two different kind of goals: personal and work.
As I write the goals I would like to achieve for them on the next week, I will know what actions I need to work on to achieve the goals, I can write down for every week what actions I need to work on.
As I work on writing the actions I need to do for every week, I can work on a plan for every week with more details to do.
Week plan.
Once I have my week plan, I can work on the time I will be spending on every job and I can make a "things I need to do" each one of the actions.
As the month goes, you can work on a to do list for next month, by the end of the month, you will know more or less what things you will be working on to keep working on achieving your goals for this year.
Some goals are small and simple and they require small amount of time and work, but there're some bigger and more important goals that will require more work and time to work on them.
Don't let 2018 end with the feeling of "another years goes by and I did the same", make it happen, work on your goals and dreams every month, every week and every day, it'll make the difference.
If you find this article helpful to work on your plan to achieve your goals, you can PIN IT so you can find it later, don't forget you can also share it.
If you have any question, write a comment and I would love to answer to it.
Do you have a big goal as a resolution for this year? write a comment and share your dream!
You can read also:
6 tips to start your Bullet Journal.
How to draw Ribbon Banners on your Bullet Journal.
Best Bullet Journal Weight loss tracker.