When it's about how to spend the long and cold Winter months, learning about how to hygge – Bullet Journal will be the best tool to find the way to enjoy Winter
What Hygge means?
No doubt at all that winter weather will be here soon, just a few more weeks and we will all be talking about cool and harsh weather. Just thinking about it, makes everyone that lives in the North hemisphere wishing for a place to spend this time of the year in a better weather country.
But thinking about doing it, it's not easy, you might find yourself stuck in your town or city and we all will be spending this Winter living our regular life, going to work and wishing for next Summer to happen soon.
As we get to know how other people live in different countries, it's easier as we all read lifestyle blogs and we love to learn how people learn to enjoy life no matter what is going on in their life!
Life can be good if you learn how to focus on the good and sort out the bad moments, our Bullet Journals help, and can help you to stay focused on the good side of life, and find more ways to turn the bad and make the best of your life.
It's not hard to find an idea to work on and make a follow up on a few Bullet Journal spreads, and this time it's time to work on a few Hygge spreads and make the best of Winter 2018.
What Hygge means?
---
You might pronounce right or not the word Hygge, but the most important thing about it, it's the meaning of the word "Coziness", but it can mean a lot more than that.
Hygge is as Danish as æbleskiver and it goes far in illuminating the Danish soul. VisitDenmark.com
---
The meaning of Hygge is to create a warm atmosphere and enjoy the good things in people's life. You don't need to wish for luxury or expensive things around you to enjoy your life, neither to live in an eternal Spring weather place to enjoy life.
Lo live a hygge life means to enjoy the moments you live with your family and friends, you don't need to do anything special to enjoy a good moment.
Light up a candle and enjoy a hot tea cup, sit down for a good talk with a friend or a family member, keep your home warm and cozy, that will be all you need to create a good atmosphere that will help everyone to enjoy the moment.
Tips For a Hygge life.
As you watched the video you could see how danish people have found to create a good atmosphere everywhere, it doesn't matter if a room is turned into a coffee shop and a laundry place at the same room, anywhere can be turned into a nice place to spend sometime with people you appreciate or by yourself.
Day light will change soon and days will turn a little cooler soon, so it's time to work on a couple of spreads on your Bullet Journal and make a plan to Hygge your life for winter months.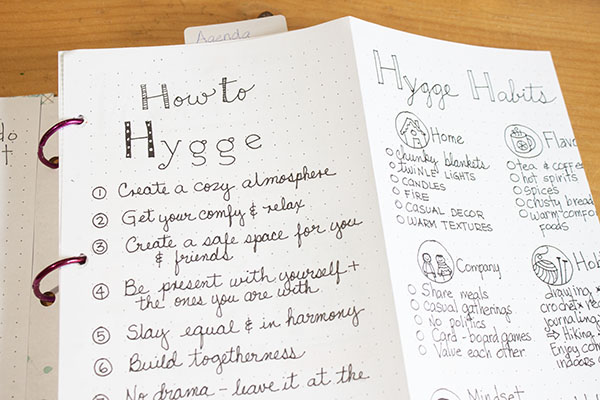 How To Hygge:
Create a cozy atmosphere.
Get your comfy & relax.
Create a safe space for you & your friends.
Be present with yourself & the ones you are with.
Stay equal & in harmony.
Build togetherness.
No drama – leave it at the door.
Be thankful.
Enjoy the simple pleasures.
---
How to get Hygge Habits:
Getting a new habit can help you to improve your life and become happier, As you learn more about Hygge you'll find yourself doing some changes to simplify your life.
There are 5 areas where you can start working on:
Home:
Make your home cozy and warm to enjoy the time you'll spend indoor during the winter months. Create the cozy atmosphere that will help you to keep your spirit happy and enjoy the moment.
Chunky blankets.
Twinkle lights.
Candles.
Fire.
Casual decor.
Warm textures.
Flavors:
Thinking of making life better is not the same as spending all the time in the kitchen and cook elaborated meals to be happy, life can be more simple than that.
To live a Hygge life, you don't need to kill yourself cooking all the time, there's a simpler way to enjoy your life at home during the winter months.
To help you to get ready for those long winter months, you can make a list of food to have at home that you can get with time.
Tea & Coffee
Hot spirits.
Spices.
Crusty Bread.
Warm comfort food.
Hobbies:
I know by myself, it's not easy to spend most of the time indoors during those long and cool Canadian winter months, and it won't help me to be happier if I spend all the time about taking a plane and fly this season to Mexico or somewhere else like Argentina or Chile.
It's better to work on a list on your Bullet Journal and write down all the things you can do while you spend this time indoors. Hobbies are a good help to spend your life indoors while creating something beautiful and useful.
Make a list about what would be a good idea to try and what materials you will need for it. Maybe you will discover you're good at certain things, and it will bring you some excitement while you learn how to do it and how to master at it.
Here are some ideas of Hobbies you can try this Winter:
Drawing
Knitting.
Crochet.
Reading – writing.
Journaling.
Coloring.
But there's also some hobbies you can try to do outdoor during the Winter:
And most of all enjoy coming indoors after being outdoors doing some winter sports.
Company.
There's nothing better than spending sometimes with your family members & friends to create a Hygge life.
There are many activities you can do with them and you all will spend great time together.
Share meals. Meals don't need to be expensive or elaborated to be good meals to have with your family and friends.
Casual gatherings. No need of formal dinner at your place, Get together with a few friends and enjoy some snacks and a good hot cup of coffee or tea will create a moment to keep in your memory for a long time.
No politics, the world has turned into a complicate place, to live a Hygge life, no politics please, and no other topics either.
Card & board games – You don't need to be a kid to enjoy a good card or board game, Make a list of your favorites and get them home before the Winters gets here.
Value each other – We all people are different, and we all have good and not so good moments, but it's better to see the good on each other and enjoy the good moments.
A good idea would be to have a Good Moments List spread on your Bullet Journal and write about that moment you enjoyed, if you can get some pictures to add to this list, it will help you to read and look at it.
Mindset.
Most important that everything is to create a mindset that will help you to make the best of those long and cold Winter months.
Gratitude – See the good and make your list of things to be happy and grateful about.
Meditate – (pray) Take time for yourself, create peace inside of you, create moments of silence and peace around you. Teach your children to enjoy moments of solitude.
Savor the moment – Live the moment, look at the good of every single moment. Write about it, journaling about it. Make good memories of it.
Enjoy the silence – Learn to enjoy the silence, create the moment, begin with just one minute and then two…
Enjoy simple things –
Be awesome and share this blog