If you love organization and creativity you may want to start your own Bullet Journal. Best Bullet Journals is a post where you find the information you need to get the notebook you need to start your own Bullet Journal today!
From a few years ago people are sharing their Bullet Journal all over the internet, from the simple and minimalism layout to help you to get organized and get everything done to accomplish your dreams and goals, to the more elaborated and creative layout where creativity goes hand in hand to help you to get focused on your to do list to get everything done but without giving up to your creative side.
What does make a Bullet Journal one of the best tools to accomplish your dreams and goals?
The answer can be simple, each one of us will find our inner creativity to develop our own organizing style.
Best Bullet Journals
Find the Best Notebooks For Bullet Journalism
What do I need to get started to Bullet Journalism?
Any notebook can be turned into the most beautiful Bullet Journal, maybe that notebook that is just there on your desk, and you don't know what to do with it, as you work on it it'll become your best tool to get focused on the task you need to work on to turn your dreams into reality.
Once you get started with what you already have at home, that notebook and pens, pencils, markers and colored pencils, you might want to start trying some new tools like some stickers, washi paper and more.
As you work on your first Bullet Journal, you'll get more creative and you'll get more confident, then you may want to try a new type of notebook to keep working on your organization of your life and work.
---
What is the best Bullet Journal to work on?
Anyone is good to work on, you may need to try a few of them to find your favorite, today I'll share here some of my favorites:
I'm sharing here some affiliate links, by doing this doesn't mean you'll need to pay more, you'll pay the regular price and I get a small per cent of the price, by doing this allows me to keep this blog running, I thank you for your support.
---
This is a great notebook, perfect size to work on it and to carry with you all the time in your purse or bag, its dotted paper provides the ease of graph paper to work on it and draw your own layouts with no problem at all.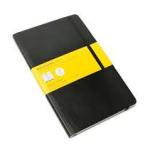 This notebook opens flat, this will help you to work on it, the pocket at the back is perfect to keep some stickers or other things you'll use to design the perfect page.
The paper is high quality but a little thin, if you work with pens and markers it may get through the paper.
---
This notebook A5 size is perfect to carry with you all the time (5.5 x 8.25 inches) its nickname is "Webbie".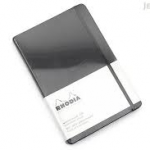 It comes with 96 pages, PH neutral, acid free ivory paper, ribbon bookmark, and elastic closure. Interior pages are dotted.
The pages are smooth to work on, it has a paper pocket pasted into the back cover. It comes with elastic closure and a ribbon bookmark.
This notebook comes with dotted grid on its pages, you can write and draw with confidence on its paper and you barely see the ink on the other side. You can work on it with different types of pens and markers, the only one that can get through are Sharpies.
What makes of this notebook one of the people's favorite is: great design, quality materials, it's simple and clean.
Get your Rhodia Webnotebook here
---
This is a well made sturdy notebook to work on, with the perfect size A5 to carry with you in your bag or purse.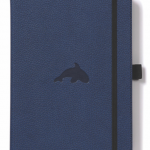 Made with the excellent quality of smooth paper, you can work on its paper with most of the pens and you can hardly see it on the other side of the paper.
It comes with a pocket into the back cover and an elastic pen loop.
The cover is nice, but the real strength of this notebook is the quality of the paper, this notebook will last, its binding won't fall apart and it can open flat.
Customer 5 stars reviews make of this notebook one of their favorites, customers who have gotten it will buy it again!
Get your Dingbats Wildlife Medium here
---
Premium (100 gr) ivory paper, rounded corners, easy on the eyes and ink doesn't bleed.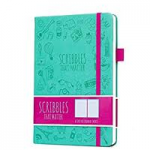 It's made with great design, it opens flat, it has an elastic pen holder, you can store cards, notes and some stickers on its expansive pocket on the back cover.
It comes with an index page, key code page, pre-numbered pages, and pen taste page.
UK designed, and tested to pen and ink bleeding, it has a synthetic leather cover with great color combination that will make your notebook to stand out from the rest.
It's designed for all kind of purposes, as a simple notebook or as your personal planner or bullet journal.
This notebook has become one of the customer favorites with 5 stars, and customer say they will buy it again.
Get your Scribbles that Matter here
---
This is a 9 x 10 inches bullet journal, perfect dotted notebook to get organized, you can work on it with your to do lists, diary, sketchbook, mood trackers and more.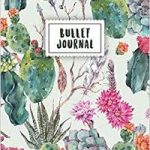 It has four components to help you to get more organized:
the index
the future log
the monthly log
the daily log
It has 156 unnumbered pages, with a few templates examples that will help you to create your own, it's a good dotted notebook to start working on your bullet journal.
---
A beautiful floral cover on this 8 x 19 inches dot grid notebook,
It comes with 110 dot grid pages, the paper has a good quality that will allow you to work highlighting, working with calligraphy and hand lettering.
If you're looking to get an inexpensive notebook to start your own bullet journal, this will be the winner.
Get your dot grid notebook here.
---
Filofax A5 Notebook,
A high quality well made notebook that will help you to work on your Bullet Journal!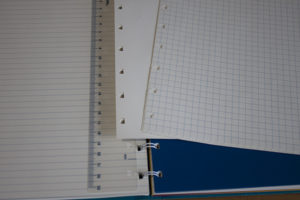 You can find it with a good variety of color for the cover, all of them are nice and bright, it's cover lays perfectly flat when it's open and it allows you to work on your new pages with no problem at all.
It has a small wire bindings, it holds the paper pages in their place while you work on them.
This notebook comes with removable pages, each page has nice shape holes that makes easy to take them off and replaced them again on the notebook with no problem at all.
It comes with a few dividers that will help you to get organized and make the best of this notebook as a bullet journal.
The paper is high quality and you can work on it with different writing tools like pencil, colored pencils, ink, fountain pen, gel pens and different brands of markers.
This notebook comes with a plastic ruler that will help you to design new spreads for your journal.
Get your Filofax A5 Notebook here.
You can read a full review here.
---
Fabriano EcoQua A5 Notebook
An excellent notebook to work on when you're doing Bullet Journaling.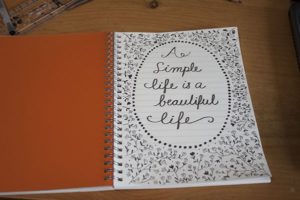 It has high quality paper than helps you to work with any writing tool with no bleeding at all.
Spiral binding is sturdy, and the size is just the right for taking notes on the go.
70 sheets of nice slightly off-white color mate paper.
Environmentally-friendly – chlorine-free – acid-free.
Get your Fabriano EcoQua A5 notebook on Amazon.
---
This journal is smaller than a A5 notebook (5 x 8.5″) the paper is smooth and acid free, it's thick enough to avoid bleeding and you can work on it with different Get pens with ease to write down all your appointments and plans to work on.
It's size make of it perfect to carry with you all the time in your bag or purse, by doing it you won't forget to take any notes on it.
This journal opens flat to help you to write on any page with no problem at all.
Check the price on Amazon and Get It Now!
---
Closing
Bullet Journalism is excellent to plan your activities to set up your goals and make a plan to achieve them.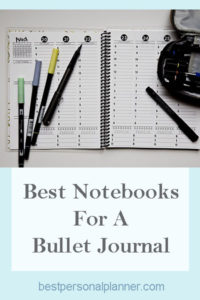 This method helps you to track your appointments, events and important elements on your "To Do List".
How will you be working on it? It's up to you, as this planning method is personal, and it will allow you to know more about what you need to pay attention to and how you can work better on each topic of your life.
While you start working on your first notebook, you'll be discovering how creative you can be, whether you keep it minimalist or as creative as you want to be!
There're so many resources to help you to plan better and get everything done!
No more clutter in your mind, from now on you have in your hands the best tool to write down everything that is important to you and that will help you to achieve all your goals.
Pick one notebook from this list to start and get as creative as you love to be.
Enjoyed this post, save it for later!