Fall is the season that brings a few things you can't miss, check my 20 + ideas to do and Get the FREE Printable for the Ideas For Your Fall Bucket List
Going for a walk to take a look to the beautiful colors that the new season brings everywhere is one of the must have on any Fall Bucket list, check my 20 + ideas to do.
Whether you live in the city or in the country, Fall always brings something that makes every one a little bit romantic, could be the beautiful Fall colors or it could be the weather starts to get fresh, most of the people love this season for many reasons.
It can take a while to say good bye to the nice Summer weather and get used to wearing cozy clothing and spend more time indoors, nobody likes the idea that winter is coming and Fall is here to help everyone to get used to fresher weather and different activities.
You don't need to worry about how to take care of yourself and your family while spending all day under the sun, temperatures are more comfortable and invites us to go out for a walk to enjoy some sunshine.
Cities and most of all small towns will be sharing the best of them during this season, nothing better to drive to the closest town near you to enjoy the beauty of the Fall country landscape.
Visiting an Apple stand during the weekend will be something that your family will remember for many years, whether you go there to pick some fresh apples or to listen to country music or to enjoy a good lunch with local food, most of it will be made with fresh products from local farms.
Ideas For Your Fall Bucket List
1. Decorate the house for fall
You won't get short of ideas to decorate your home for Fall, whether you're looking to spruce the indoor with some pumpkin themed projects or to add some rustic Fall touches outside of your house.
2. Go apple picking
Nothing better to do on a weekend that to go to spend the day at an apple stand, spend the morning doing a walk in the apple orchard and pick some of your favorites (Macintosh, Gala, Apple Crisp, Lobo)
Enjoying this post? Give my Pin a share!
The Montérégie area near Montreal has a big list of Apple Stands you can visit, my favorite is the Blairs Apple Stand, but in the small and beautiful town of Franklin Center, Quebec, there's a long list of different apple stands you'll love to visit during this time of the year.
3. Make leaf art
Trees are starting to change color and soon they will share the best version of themselves to everyone, from yellow to orange, red, brown and different shades of green, you always can pick some leaves to add some Fall touches to your home.
You always can save some leaves in a book to use them as a book marker.
4. Jump in a leaf pile
Nothing better than letting our inner child to have some fun!
If you have young children at home, bring them to have some fun too!
5. Walk through a corn maze
Have you ever had some fun visiting a corn maze, you can look on Google to find one near to you.
6. Go on a nature walk
More and more people are stepping into going for a walk to improve their health, Fall brings the best temperatures to enjoy a morning or an afternoon walk, no matter where you do it, at the city or in a small town.
7. Go hiking
Many cities and towns have a hiking paths to everyone who loves to go for a walk in nature.
8. Go star gazing
Skies will get clear during the Fall nights and this allows us to go star gazing!
9. Make a Fall wreath
Whether you use natural foliage or artificial, making a Fall wreath will be fun and it will help you to decorate your house for Fall.
10. Bake cookies
Nothing will bring nice memories to your mom or grand-mom's house than baking cookies, if you have young children at home they will love to give you a hand.
11. Enjoy an afternoon tea
If the weather changes and it gets rainy and cool, nothing better than enjoying a good afternoon tea.
There are so many good tea flavors to choose one to enjoy on one Fall afternoon today.
12. Watch an Autumn sunrise
Do you wake up early every morning to go to work?
Get up 5 minutes earlier and watch the sunrise, from pink to orange sky that will last just a few moments while you enjoy a good coffee or tea cup.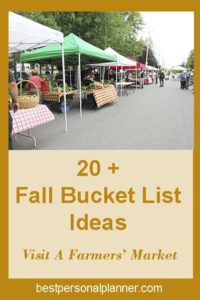 13. Carve a Pumpkin
Nothing better to have some fun during the Fall than carving a pumpkin, go to the local farmer market and get that perfect pumpkin to carve with your kids.
14. Make apple cider
The temperatures during Fall invites to have a cup of apple cider, making an apple cider at home won't take long and it will taste great!
15. Go to a Fall festival

16. Eat pumpkin spiced food
So many good pumpkin spiced food to have during this season: apple, coffee, cookies, tea and many more!
17. Go on a hayride
Nothing more fun like to go on a hayride while you visit a local farm or an apple stand in your area!
18. Burn Fall candles

Vanilla, cinnamon, pumpkin …
19. Go on a walk and see the colorful leaves

Visit the nearest park to your house or visit a small town.
20. Make a pie

Pumpkin or apple pie will be so good with a cup of hot coffee or hot chocolate!
21. Wear scarves

Nothing better to welcome the new season than wearing a scarf to keep you warm!
22. Eat a caramel apple

Just one?
One way to be sure that you'll be having some fun during Fall is to add a Fall Bucket List to your Bullet Journal or to your Personal Planner.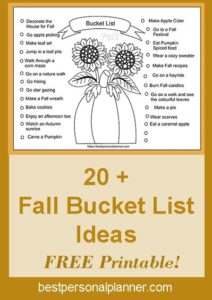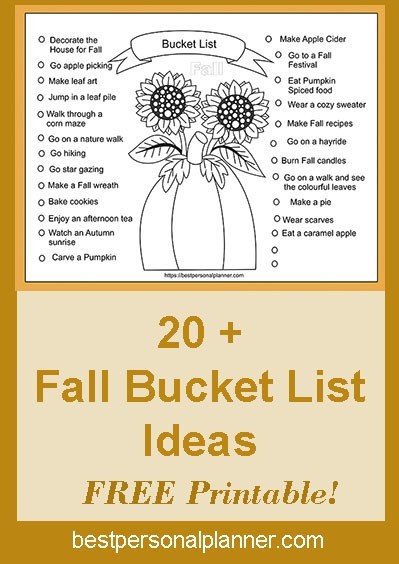 It can be made by you as it doesn't need to be a fancy one, just be sure to add all the activities you'd love to do during this season, add a check mark so you can know how many you've done and how many are left to be done.
But if you want to get the Fall Bucket list I made for myself, all you need is to download it and print it out.
You can add some color to it or just leave it on black and white and it will look great!
Check every activity that you have done and you can also add some activities you want to do in the area near your home.
At the end you'll have a beautiful spread that will help you to remember the good moments you have during the Fall 2019!
Get more FREE Printables for your Bullet Journal or for your Personal Planner!
Enjoyed this post? Give my Pin a share!