When working to get organized, you might have a planner that works for you or it might be out of your budget, DIY Planner 17 Page Ideas is a good start to work on!
DIY Planner 17 Page Ideas
Who knows better than you what are your needs at the time to set up your goals and plan the tasks you'll be working on, I've been working on a few already made planners for a few years and it seems I need to add some pages to them to fill up all the spreads I want to work on.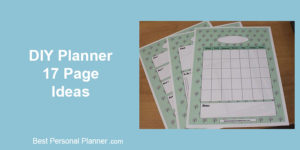 Most of the planners are made with a general idea of what people will be working on, but it's not too personal and you might want to focus on one topic to improve one year and the next year you might want to focus on another area of your life.
Planners should adapt to each ones needs, it's OK to get a planner where you can plan your life if you don't have anything special to work on in your mind for one particular year.
But if you want to work on some areas in particular to improve your lifestyle, your personal and professional life, a DIY Planner would be a better idea to work with!
How To DIY Your Own Planner
The first thing you need to do is to write down on a paper or on a notebook everything you want to get to know more about or anything you want to track on to know more about each topic and to see how you can work better to make your life better and easier.
Once you have a list of topics that you want to work on, you can look for ideas of spreads used on Bullet Journals or for Free Printables you can download from the internet
Make a list check that you can have right next to you, this way as you find one printable to work with you can check that topic off your list.
Download the Free Printables you find and make some holes on the paper with a puncher once you printed them out and add them to a 3 rings binder.
Work on sections as you add more printables on the binder:

Home
Personal life
Family life
Professional life
Wish list
A good idea for some of the pages you can add to a DIY Planner would be:
Planner / Household
Birthday and Anniversay Calendar – You can mark down every birthday and anniversary of your family, friends and other important events you don't want to forget, send a card or attend to a party or a reunion.
Monthly Calendars – I like to have them for every month I use to print out the full year ahead, this way you can mark down dates, appointments, holidays and other important events that you need to pay attention to.
Weekly Calendars – On these pages you can make a list of "To Do" and as you work on them you'll get to know in advance how busy you'll be each week and what things you need to work on. Get a blank month calendar free printable here!
Meal Planner – (weekly) this is a good way to know about the next week menu and make at the same time a groceries list to get.
Cleaning Schedule – You can make a plan to work on it like daily, weekly, monthly, quarterly, and semi-annual/annual cleaning schedules, your house will be always be nice and clean and you can manage your time to work on different chores.
Projects To Do – As house work is never done, there's always something you might want to improve or to add to your house, make a list and make a calendar, you can also work on a saving for a project to do in the future.
Habit Tracker – Change a habit at the time and you'll bet better at it, Get a Habit Tracker Free Printable here!
Cooking Planner Ideas
Nothing will save you time like getting all your ideas for the cooking for the coming week, at the same time it will be easy to work on a groceries list.
Planning ahead the meals for the week, will help you to feel free about thinking what to cook for today or for tomorrow. You'll be saving time and money if you know what to buy from the store or from the farmers market, fresh ingredients of the season will improve you health too.
Menu Plan – You can get or design a menu plan to add some post-it stickers every week to plan the daily menus on them, all you need to do will be to change the post it stickers every week.
Favorite Recipes – Be sure to add this spread and write down the name of a new recipe you made and your family loved it, this way you'll have soon a good list of favorite recipes to make in a busy day.
Grocery List – It will be easier to plan your weekly groceries if you already know what you're cooking for the coming week.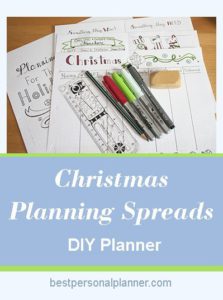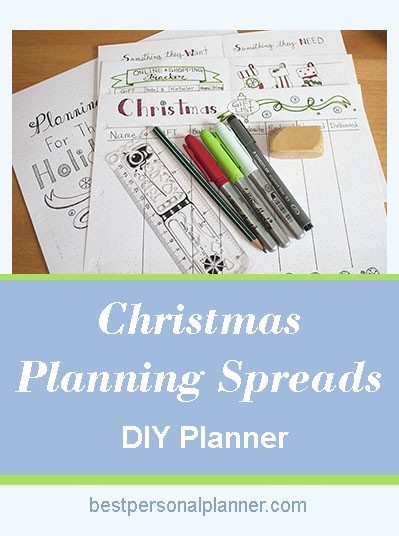 Holidays DIY Planner
On this section of your planner you can get the printables to work on according to the celebrations you and your family do during the year. The most common celebrations would be:
Christmas – Don't let Christmas be the hardest time of the year for you, start to plan about it with a few weeks ahead and everything will be easier for you!
Halloween – You can work on a section on your planner if you love to decorate your home for this holiday and be sure the costumes for the children are ready for that day!
Thanksgiving Day – This is an important day to celebrate with the family and you can get everything ready to host a dinner everyone will remember for years!
You can read also : Planning For The Holidays!
Easter – Another section to have in your planner and make a brunch or a lunch for the family!
Family Milestones – You might want to start writing down everything important your family does, don't let time go by fast and you won't remember every accomplishment that happened in your family!
It will be a legacy for your family to take a note about when things happened, your children first time of …, and many more important things you want to remember when they happened.
Favorite Quotes – Who doesn't need a little motivation from time to time, whenever you listen or read a quote that moves you, write it down on a Favorite Quotes spreads and go back to read it again any time you need an extra motivation.
Inspiration Spread – Life changes as time goes by, and there'll be sometimes when you'll be needing to find inspiration, or maybe to find the way to share inspiration to someone you care about.
It could be a quote or could be a phrase you read somewhere, but it moved something inside you, take a note of it, write it down on your planner and it will help you anytime you need a push in your back.
Closing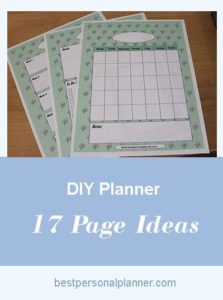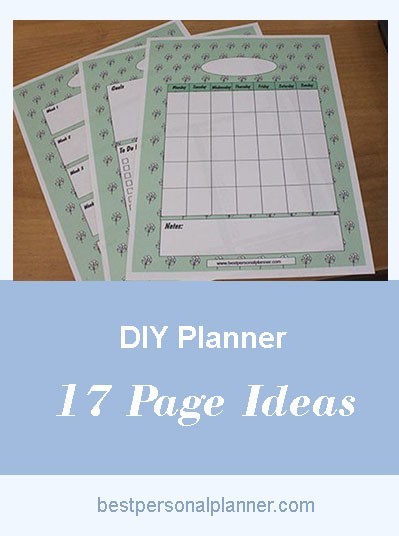 A DIY Planner will adapt to your needs, you can add the spreads you'll be working at and as you get to know how good each spread works, you can print it out again for the next month or the next year.
A planner is a tool to use to make your life better and easier, from your personal and family life to your professional life and dreams, everything will be possible to reach when you know what your goals are and you make a good plan to work on.
Don't hope for good things to happen, make those good things happen.
One step at a time and work on the tasks that will help you to achieve your goals.
Soon you can read on your past years planners and you'll see how far you have reached!
Enjoyed this post, save it, I'll be working on more FREE printables for you soon!