Looking for a personal planner to get organized and achieve all your goals?, you might want to take a moment and read if this planner is the right for you.
Daily Weekly Monthly Planner Calendar Organizer, Bound To-Do List Book – Daily Planner To Do Pad – Best Daily Calendar and Gratitude Journal to Increase Productivity, Time Management Happiness.
Product Dimensions: 13 x 18 x 2 cm ; 336 g
Planner Content:
-Personal Info page
-2 Double Spreads of Yearly plan consisting of 4 small blank boxes for each month and a 'Project' column.
-12 Double Monthly spreads
-155 pages of 2 day columns containing 15 lines and a blank box with the date and day above to be filled in.These pages are interspersed randomly with 5 'Project' pages that can easily be used for other things.
-Double spread 21 Day Plan
-30 free pages with lovely graphics for notes or whatever you wish
-A page marker ribbon
Specifications:
* Cover Material: Paper, Hard Cover
* Binding: Glue binding nail
* Cover Color: Brown, Blue, Light Blue, Purple
* Pages: 224 * Size: 13x18x1.8CM
* Weight: 337g
The Right Personal Planner Will Help You To Achieve Every Goal In Your Life!
Take your time to browse on the internet to find the right planner for you might look like a time consuming task, you might need to visit a few sites to read about all the Pros and Cons of a few personal planners, but my advice is this time spent on it will save you lots of time everyday at the moment you plan your next day, next week and next month.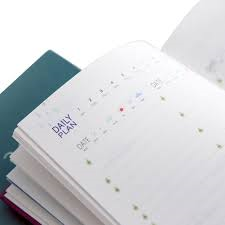 Not all the planners works and are designed to fit every ones needs when we talk about planning each ones life.
This is why I find this planner good for me and it may be for you too.
It is well designed, it's size is between A6 and A5, perfect size to carry in your purse; it's hardback and standard bound but the pages lay flat when it's open so this makes easy to write down on it and you can also make some drawing on its pages.
If you like to write with a fountain pen, you won't have any problem as the paper is a decent quality.
The layout is unique with nice designs and it will allow you to divide the daily columns into different categories such as appointments, to-do's, etc.
If you like to make your own designs on your planner, Wawoo personal planner will let you work on it as it has a decent amount of free pages at the back so you can get as creative as you like to when you work on your own lists, numbers, notes and more.
On Wawoo planner you can work plain or as creative as you want to, and it comes in four colours, mazarine (gray blue), purple, coffee and light blue.
It's so customizable, as in you can start it any time of the year, I would recommend it!

Alejandra.
Disclosure: Some of the links in the post above are affiliate links. This means if you click on the link and purchase the item, I will receive an affiliate commission. Regardless, I only recommend products or services I use personally and believe will add value to my readers.