You might have come with the idea to start your Bullet Journal, but you might think it might be a little complicated, these 6 tips will help you to get started.
What I love about Bullet Journaling is that you don't need to follow anything or anybody, it will be perfect just the way you are and the way you work on making every single page of it.
You don't need to be an expert of drawing or a master artist to come up with that perfect layout that will help you to do better in life.
The main purpose of a personal planner is to help you to plan your life, reach your goals and live the life you always dream about.
You can find many planners already designed for you and all you need is to follow the instructions.
A Bullet Journal is about the same  purpose, to help you to plan and reach every single goal you have in your mind for a better lifestyle, but a bullet journal adds the fun to be creative.
Everything is good and right, don't be afraid of making mistakes, that can happen all the time and some mistakes are like the salt and pepper for a life, they just add the perfect touch.
The more you work on your Bullet Journal, the better you will be and soon you'll find your own style.
6 Tips To Start your Bullet Journal.
Start in a practice journal.
You can find all kinds of Bullet Journals on the market, with a wide price range, A4 o A5 size, soft or hard cover, 25 or 100+ pages, beautiful layouts and practical layouts just ready for you to start working on with your planning.
The best tip here is to start with a practice journal, a simple notebook will be perfect to start with.
You won't need to worry about it if you did it right or not when you work on drawing or to design a new layout, if it is not what you wanted, just tear off the page and make a new one.
You will find after you work on a few pages your own style will come up and it will be easier for you to know how to draw a new layout in just a few minutes, it won't take long to come up with a beautiful new layout.
Start with the basics.
Don't get to complicate at the beginning.
Index
Year layout
Month layout
Week layout
Day layout
Weekly meals layout
As you work on your Bullet journal, you will get to know what your planning needs are.
Get inspired by other Bullet Journals, you will find from the simplest to the most beautiful Bullet Journal on the internet, get some ideas, try one or two at the beginning, little by little your own personal style will come up.
Keep it Simple.
There are beautiful examples of Bullet Journals that were kept simple, the main focus here is that you reach your goal to be more organized and find the way to make your life simple.
As this happens, you will find many ways to embellish your bullet journal pages, from personal style drawings and doodles to washy tape and stickers.
Everything here is ok! that is what makes any Bullet Journal so perfect!
Sketch in pencil first.
Unless you're a professional and you already know what you want your next page to look like, everyone who works on a new page for a Bullet Journal should make a sketch in pencil first.
You don't like how it looks, no problem, erase it and work on it again!
When you come up a moment where you like how your new layout looks like, then ink it, and add some color!
Welcome Mistakes.
Oh, that is what I love the most of my Bullet Journal, if I tell you how many times I make a mistake on a single page you won't believe me.
Sometimes a mistake will be part of your personal style, a mistake might be that happy moment on your new page.
Let them happen, we don't want a "perfect life" or a "perfect Bullet Journal page" the magic happens when you find how well planning a new day or a new week is easier for you and it helps you to reach your personal goals.
Start Today
If you have the idea to start your own Bullet Journal, don't wait to find that perfect Bullet Journal already made for you, even an old notebook will be perfect to start it.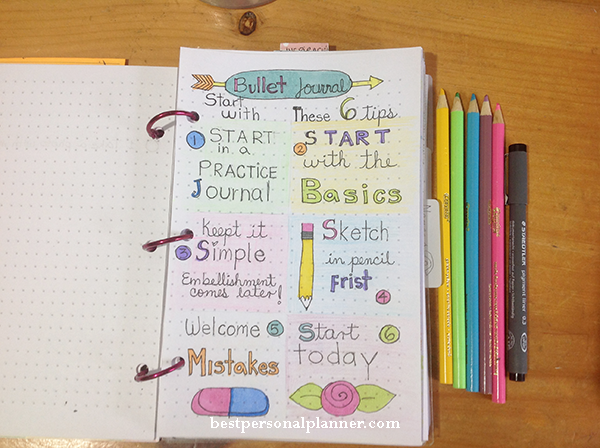 Bonus.
Today I was looking for a picture for the header for this post, I thought the best way to share with you how to work on a Bullet Journal was to make a new page for it.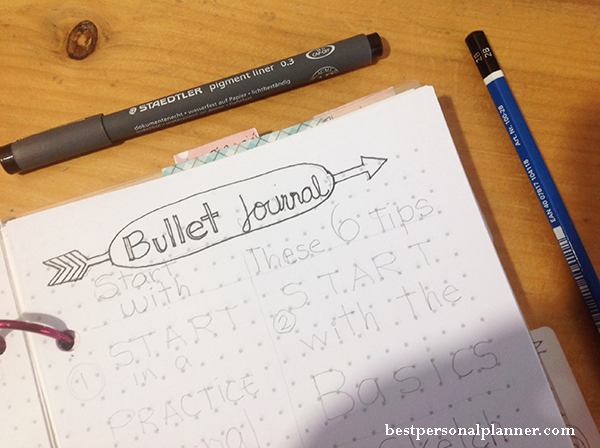 I got the idea in my mind, (yes I got inspired by other artist and Bullet Journalists)
I made the pencil sketch first, I didn't worry about any mistake I made at that moment, when I finished all the sketch, I will decide what to erase and what not.
I like to work with a soft Staedtler eraser , and I found a package that comes with a soft eraser and an eraser just like the one I used to have when I was a young girl, and it works so nicely! it erased any pencil marks with no problem and making no damage on the paper!!
To work with the inking of my sketch, I like to use Staedtler pigment liner, this time I used the 0.3 point. I find the ink dries fast and it doesn't bleed out when I work on the next step with the markers or when I work with watercolor.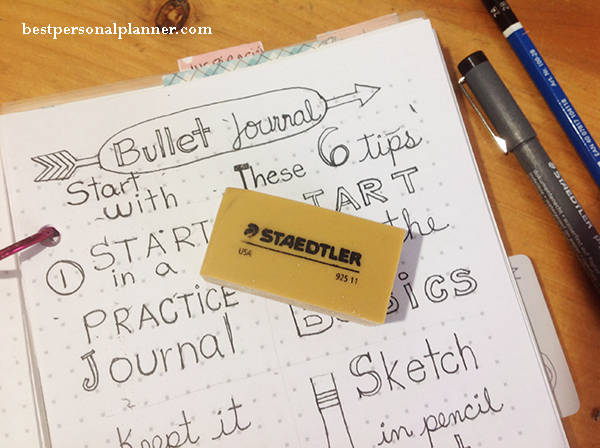 I bought some BIC markers "Color Collection" to work with them on my planner and on my Bullet Journal, I find they are great adding some color to my pages, I don't see any single "marker lines" on my pages when I work with them.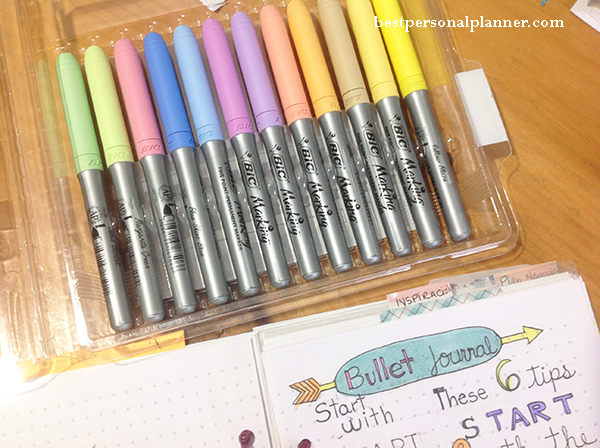 When the ink dries, it looks like my new page was like a magazine page or a printed colored page already made!
The only "Con" here is that ink is strong and it bleeds to the next page, so if you get these Bic markers to work on your planner or bullet journal be sure to place a extra paper under while you work on your new page, once the ink is dry, you can take that extra paper out and keep working on your new design.
I will recommend these markers, I bought the 36 markers package and I find the markers work perfect and colors are beautiful.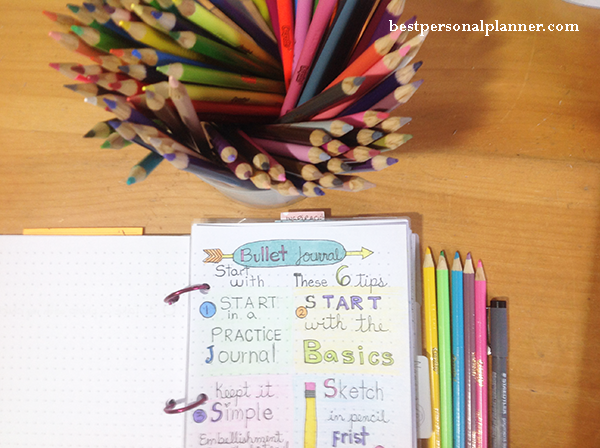 The last step I did on this new page was to add some lighter color on it with some coloured pencils, this time I bought for myself a new package of 100 coloured pencils from Crayola, so now I have a wide range of colors to work with, and they work pretty well!
Will I recommend you to get these coloured pencils?… Yes I will, for you or for your children!
You don't need to buy all these new tools today, try to start first with what you already have at home, I did that for a few years, today I'm working on my fourth personal planner – Bullet journal, so that means I have been working for 4 years with what I had at home.
The more I work on my planner or my bullet journal, I want to try more new tools on them (pens, pencils, markers, coloured pencils, stickers and more) and I will be sharing with you my work!
If you have any questions about how you can start working on your bullet journal, please leave a comment, I will reply to it.
If you find this post helpful, you can Pin it so you can find it later.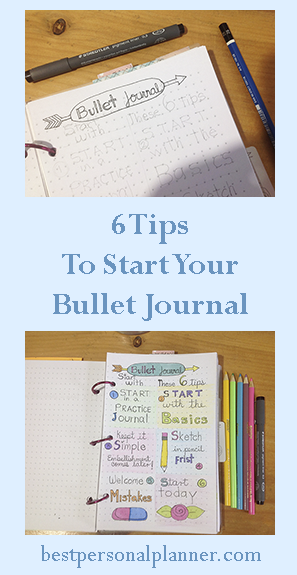 Disclosure: Some of the links in the post above are affiliate links. This means if you click on the link and purchase the item, I will receive an affiliate commission. Regardless, I only recommend products or services I use personally and believe will add value to my readers.