If you're a planner addict or you have a planner girl in your life, here's some ideas of things to put on your gifts list to get.
As the holidays come closer, it's time to start working on a "gifts to get list" with all those things to shop for, for your  planner addict.
You will find something this fellow planner addict just will love!
Pens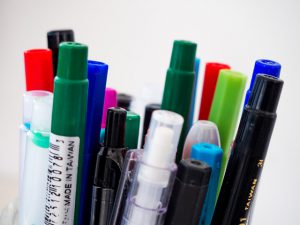 Everyone has there favorites, gel pens (Pilot G2 , Steadtler Fineliners), regular pens or fountain pens, every planner will love to have a few pens to work with. It's always a good idea to have some pens to work on new pages and never stop on creativity.
Assorted color types in one pack: Glitter, neon glitter, metallic, neon, pastel, swirl and standard
Washy Tape
I can't just get enough of washy tape to work and decorate my bullet journal pages, washy tape makes my work easier when I'm working on a new page, it's a time saver and every page will look amazing and unique.
I also use the washy tape as a way to add some motivation decoration on each one of my bullet journal pages.
Stickers
As you work more and more on your planner or your bullet journal, you will find how well organized you can be and work flows better and it's a big time saver help.
If you want to save more time while you work on planning your next day or week, you will find a wide variety of stickers to work with them and make your planning work faster and amazing.
From your to do list, to water tracking, appointments or add that special seasonal decoration, you will find how useful stickers are.
Colored pencils
These are perfect for coloring doodles and habit trackers or to make beautiful headers on your planner and bullet journal pages.
Colored pencils can be found in a wide variety of quality and price, my favorites will be always Prismacolor and Rexel Cumberland Derwent Studio, but you can also find good quality on Crayola coloured pencils.
Adult Coloring Books.
Adult Coloring Books are amazing! every time I go to a store I end up looking for the newest coloring books for adults, for seasonal to mandalas, there's a wide variety where you can find the right coloring book for that special person who loves to do this new hobby in your list.
Brush Pens.
These pens have a nib that is similar to a paint brush, you might need to try these pens at the beginning, but once you learn how to work with them, you will be creating amazing headers for your new pages on your bullet journal.
A Book on Calligraphy or Lettering.
I'm sure you have seen all those beautiful planner pages with Calligraphy or lettering on Instragram or Pinterest and you might want to give it a try.
It doesn't matter if it looks hard to do, as you give it a try you will learn how to do it and I'm sure you'll be sharing your amazing work soon on Social Media.
Notebook
If you're interested to start working on a bullet journal, you will need a notebook to start journaling your life to achieve your goals.
Any notebook will work fine here, it doesn't need to be an expensive or sophisticated notebook, you will be working on it and you will be creating your own layouts and with time you will be doing better and better.
What you need here it's just to start journaling.
Gift card to a craft or stationary store
If you're not sure of what to get for the planner addict on your list, a gift card will be always appreciated for a craft or stationary store.
A few great places to get a gift card for a planner addict is Amazon, Etsy and Michaels.
If you find a good idea to add to your shopping list, PIN IT! so you can find it later.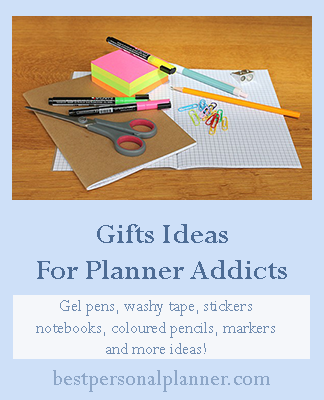 Best Personal Planner readers also read: