If 2019 is a year when you want to track your mood to learn more about it, and to understand your mood changes during a day, and why your mood changes, this mood Best Mood Tracker Free Printable is what you are looking for!
If you're tired to see how your mood can change from happy to sad or to mad from one minute to the next one, and you don't know why it happens.
A mood tracker will be the tool to help you to keep a track of your mood, so you can understand why it can change from one moment to the next one, and what are the triggers that can make this happen.
Best Mood Tracker Free Printable Of 2021

What is a mood tracker
A mood tracker can be any piece of paper where you can mark down your mood every day, at the end of the week or a month, you will have a list of days with the mood you had each day.
A mood tracker can be any paper where you can make notes about your mood as it changes, you don't need any fancy or complicated diagram to follow.
If you want to keep it simple, all you need to do is to write in a new page on any notebook a list from 1 to 31 (the month days) and write a word that will describe the mood you had during each day.
By the end of the month you will have a complete list of your mood during that particular month.
As people get more creative, mood trackers have changed from a simple list to the practical graphs where all you need is to add some color to each day, getting to work in this way, it will make it simple to track your mood by the end of each month.
More creative people have started to create the most amazing mood trackers with fancy drawings that will help you to track your mood and at the same time will help you to work on your creativeness.
It's important to say, it doesn't matter what way you prefer to keep track of your mood, from simple to amazing mood trackers, each one will help you to do the job and to know more about yourself.
Why you should have a mood tracker
It's important to know that everyone feels emotions and moods every day, there are people who are stable and their moods keep about the same most of the time, on the other hand, there are people who their emotions and moods can change from one minute to the other in one minute.
Everyone can have mood changes, but sometimes it is hard to remember those mood changes throughout the day, keeping your own mood tracker, will help you to take notes and remember those changes.
By having a mood tracking on your Bullet Journal or on your personal planner, it will help you to connect your feelings with what happened that particular day.
As you keep working to keep track of your mood with a tracker on paper or digital, you will get to know more about those changes and why do they happen.
Mood changes can happen when something makes you to change from one mood to the other, those things are called triggers, as you make a note on your mood tracker, you can also make short notes about the triggers that caused those changes in your mood.
The more you know about those triggers that cause the changes in your mood, the better understanding you will have about why your mood change fast from one mood to the other.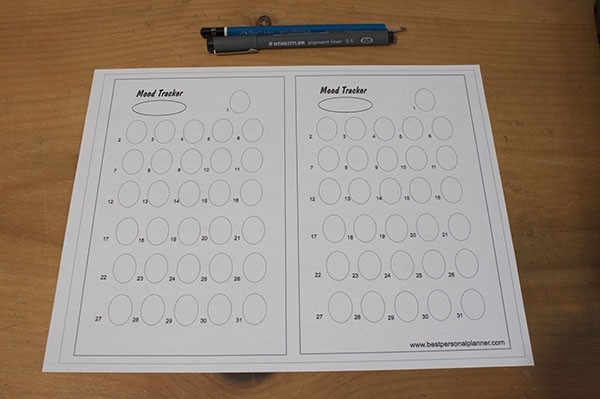 Best Mood tracker free printable
Last year, I worked on making a mood tracker for every month during 11 months, as I started to work on it on February 2018.
Today I have 11 months to take a view of my mood on those months.
You can take a look to December Month Setup so you can take a look to the December mood track I did for this month and you will find also the links to the rest of the months of 2018
This year, as I will be busier working on my job and a personal project, I wanted to look for a way to work on the mood tracker that will help me to keep track of my mood every month but at the same time I want a mood tracker that can save some time for me.
 Drawing a mood tracker for every month requires some time, from 30 minutes to a couple of hours, mood trackers are awesome when you finish them at the end of each month, but it requires time.
As I don't want to lose the creativeness of working on a mood tracker, so I came up with the idea to make a Mood Tracker FREE printable.
At the same time I design it for myself, I know you might want to have it to add it to your Bullet Journal or to your personal planner.
All you will need to do, it's to download it.
You will get a PDF with the mood tracker chart, where you need to draw the different moods you will get interested to track each month, and you will get also a layout with two months on each layout, you will need to make as many copies of this layout and write each months name on each month.
You will need to glue each page to your Bullet Journal or personal planner or like me, all you will need is to make the punch on each layout and add it to your Bullet journal or personal planner.
Drawing the doodles to make a happy, sad, stressed, nervous face on each face every day, it won't take more than 15 seconds to do it.
Don't worry is you don't know how to draw, drawing faces it can be easy and you will get better at it as you keep working on it.
After you draw each face on each day, you can also add some color to it. You can come up with the color chart for each emotion or mood.

Red – anger
Green – envy
Purple – stress
Blue – sadness
yellow – happy
gray – problems
You are free to choose the color that will represent your own mood and emotions, it will help you to understand more your own moods.
You can add a little note about what caused that change in your mood.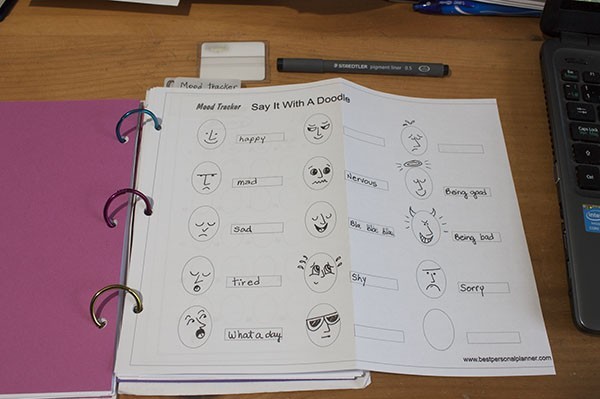 Well, I hope you like this Mood Tracker FREE printable, and it helps you to keep track of your mood and emotions on 2019.
I hope also it can help you to save time, so you can focus on other tasks that will help you to make this year the greatest year in your life.
You can follow me on my Social Media, and so you can get a notice of more FREE Printables for your Bullet Journal and your Personal Planner to download and print it out, they will help you to plan your life and they will save you tons of time!
Facebook: Personal Planner Club
You can find more FREE printable that will help you to plan better your month and to achieve all your goals here:
Free Printable Blank Month Calendar
If you find this free printable good and you can print it out later, you can PIN this blog so you can find it later.