Coloring mandalas is a way to help you to relax, there are so many mandalas where you can find the one that calls to you to be the one to add some color on it, that I'm sure you won't get any problems to find it.
Easy Way To Draw Mandalas
But when you like to doodle and to draw, you might want to draw your own mandalas, it happened to me and I'm sure you might be also wanting to be creative and draw your own mandalas.
When I started to look for some mandalas in books, coloring books and on the internet, each mandala looks amazing and a little bit complicated.
Learning to draw a mandala, can look like a huge project to work on, just thinking about where should I start or how do I need to start, didn't let me do it for a while.
After a few tries and it didn't come up good at all, I thought drawing mandalas wasn't for me at all, after a few new tries with the IPad apps, it started to look like I was going to be able to draw a mandala one day.
But I wanted to find a way to draw a mandala on paper, I wanted to draw some mandalas I could add to my personal planner or to my Bullet Journal and being part of my life, as a way to meditate while I work on it or as a way to help me to work on my drawing skills.
This week, I give it a new try as a New Year resolution, this has to be the year I could draw a Mandala by myself on paper!
So I got on the internet to watch some tutorials to help me to understand what steps I need to follow when drawing a mandala, and I found a template that will help me to get creative and the steps to draw a mandala will be easier so that anyone who wants to draw a mandala can do it!
You can download the template I made to draw a mandala, you can use it as a guide to draw a mandala by placing it under the paper or you can draw the mandala just on it as I did.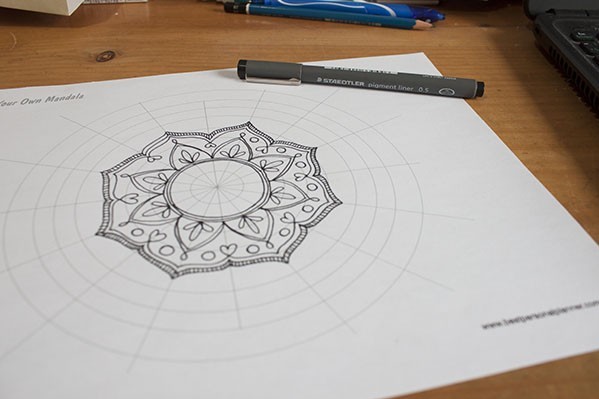 After you draw your own mandala and add some color on it, the template almost won't be visible on the mandala.
When you finish drawing your mandala and to add some color on it, you can frame it to hang it on a wall, place it on the fridge or add it to your bullet journal just like I did.
The materials I used to draw these mandalas are:
Steadler B2 pencil
Steadler pigment liner 0.5
Steadler eraser
Steadler 325 CE markers
Crayola markers
Prismacolor color pencils
How to draw a Mandala.
You can find the links to purchase all these drawing materials on the page of "My favorite Bullet Journal Tools"
I didn't follow any steps as a rule when I was drawing these two mandalas, I will say the best way to draw a mandala will be to look to some mandalas on the internet to get some inspiration.
Then, just follow your inner call to draw your own mandala, if you need to trace the first line with a pencil, it will be fine, as you keep drawing the lines, you will notice that you will feel yourself more confident to do it with the pigment liner.
Feel free to add straight and curved lines, some will be easy to draw and some will challenge you, this is all about mandalas.
Some lines will be easy to work on, and some will require all your attention to do them.
As you keep working on it, you will find some shapes as leaves or flowers will be calling you to let them come out from your pencil to be part of the mandala.
Let them come out!
You will be surprised to see how nice your mandala can be after you draw the first lines, and as you keep working on them.
As you keep working on your first mandala, you will be happy with the final result!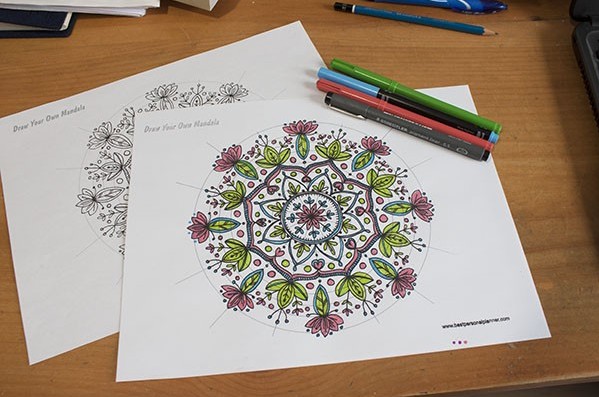 This mandala does not't look too bad?
Now it's ready to add some color on it.
I just added some color on it, not too many, green, pink and blue.
I will let the background of the mandala in white. You can see how I did a test of the colors I wanted to use on this mandala as I did a dot test on the bottom of the paper.
Adding color to a mandala with markers is easy and fast, and it won't require lots of time or work to finish it.
When the mandala was finished, I just made some punches to the paper and I add it to my Bullet Journal.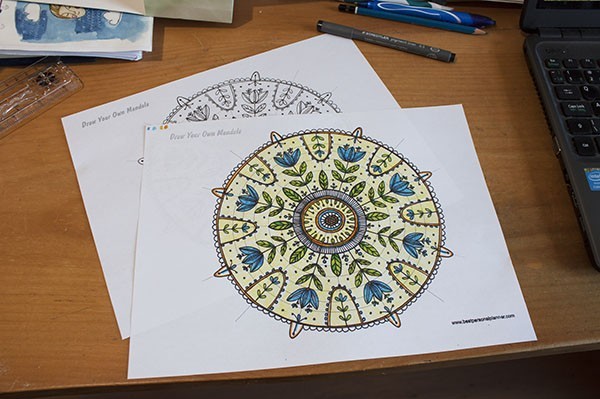 As I did two mandalas to check how good the mandala template works, the result of the second mandala is here:
Black and white and starting to add some color on it: green.
Blue, green and yellow for this mandala.
I used the markers to add the color on the mandala, but I wanted to test the prismacolor pencil to add the color on the background, as I didn't want the marker's lines on the background, I was happy with the results.
Closing.
So, now you know, drawing a mandala is not as difficult as it looks like, all you need is a template to help you work on it.
It doesn't matter if you start on the center or on any line, at the end your mandalas will look amazing and they will be made by you!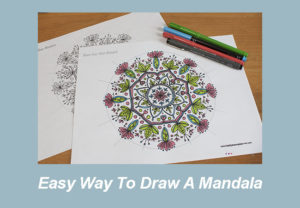 You can always add some blank templates to your Bullet Journal, and whenever you want to get busy doing something creative, you can start drawing a new mandala.
Waiting time won't be boring time anymore, when you have a few blank templates to draw a mandala on your Bullet journal!
I'm sure you will surprise your family and friends when they take a look to the mandalas you did!
If you have an Instagram account and you share your mandalas on it, come back here and share your Instagram account so I can take a look to your amazing mandalas made with my FREE template!
Find more ideas to draw with the Summer Doodles Ideas
I thank you for stopping to read my blog and for your interest to download the FREE mandala template!
You can follow me on:
Facebook: Personal Planner Club
If you like this article and you want to read it again later, you can PIN it so you can find it later.