I love notebooks and I can't resist myself to buy one more for my notebook collection. This time on the Fabriano EcoQua Notebook Review I will share why I love this new notebook for a Bullet Journal
Last week I visited my local Art supplies store and some colorful notebooks held my attention, it was a Fabriano notebooks display with fresh and bright cover notebooks I couldn't resist getting closer and touch them.
The first thing I noticed is the nice feeling touch of the cover, it's light but sturdy and flexible, took me a while to decide what color should I get, from a nice blue, green, black, grey and orange, at the end I decided to get the orange.
Then I had to decide whether to get a regular lined paper or the dotted paper, the difference of price between the regular lined paper and the dotted paper can make the difference at the time you need to decide the one to buy.
If you're looking for a nice A5 notebook for your Bullet Journal or personal planner, the Fabriano EcoQua Notebook might be the one you're looking for.
In a few days I'll be traveling to visit my family, so it's time to decide which Bullet Journal will travel with me, as you might know by now, if you've reading my blog, I started Bullet journalism with a DIY Journal made by me, then as I've been testing some more notebooks and planners, I've a few journals and planners on my desk, this time the Fabriano EcoQua notebook is the winner to travel with me.
Fabriano EcoQua Notebook Review
This little book has great features to be the winner!
It's small and light
It has a wire binding
It lays wide open to work on it.
Both covers are sturdy and flexible
The paper is 85g / m2
Chlorine and acid free
Long life ISO 9706
The colored cover is light resistant
The paper is made from forests managed according to strict environmental standards.
And it's approved by Federottica (certificate number 654) it meets the standards suitable for writing and reading.
I spent some time today to get some pages ready on this notebook, so I can tell you how it does feel when you write on its paper.
I decided to make a first page to give some motivation about life, I worked with a Gelly Roll pen from Sakura in black and it works perfect on this paper.
The first idea for this page I made it with pencil and I had to erase a couple of ideas before I decided to go with this one, as you might know when you use an eraser on a notebook, sometimes the paper get damaged and it looks bad on the paper.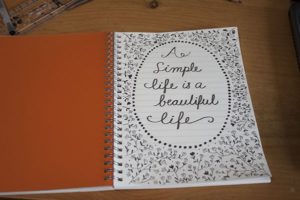 This will not happen on this notebook paper, after I use the eraser a couple of times, the paper was perfect like a brand new page, when I worked on the paper with this pen, the ink ran perfect and dries in a moment.
Some Weekly Spreads
I decided to get some weekly spreads ready on this notebook, I used some stickers to write the date, these are homemade stickers and they stick nicely on the paper, no problem at all.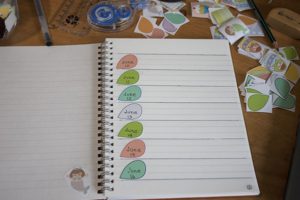 It takes no time at all to get a few weekly spreads on this notebook.
It's time to test some writing tools on the paper.
It's a good idea to test your writing and drawing tools on a new notebook and know in advance which tools will work fine and which ones you better don't use on this notebook.
I must say almost all the writing and drawing tools I tested work great on this Fabriano EcoQua notebook.
It's so easy and nice to work on this paper, most of the tools work fine, there was only two markers I won't be using on this notebook, as their ink opens wide while I was writing with them, but that don't make these writing tools bad, as they work perfect on other kinds of paper.
Two more features that makes this notebook perfect.
I love the modern front cover design, it's like it was designed by an architect or a high profile designer.
The paper is not white, it's like a fancy light color which makes it more stylish, which helps to make your Bullet journal, journal or planner more unique.
You can read also 50 Pages Ideas for Your Bullet Journal
My Verdict:
If you like to get a perfect small, fancy and minimalist notebook, the Fabriano EcoQua A5 notebook will not disappoint you.
It's easy to write on paper and light to carry with you anywhere!
It's price makes it also affordable, and it's high quality will help you to work on it, and it will last a long time.
Check Today's Price On Amazon.com