I always wanted to get a Filofax planner and see for myself its quality, and why so many people are huge fans of it.
This past week I could get for myself a Filofax A5 Notebook Review, as I opened the package I could check it and I was really surprised by its high quality.
In a hurry? Click here to get the Filofax A5 Notebook on Amazon.com
Filofax A5 Notebook Review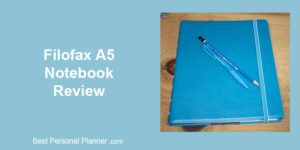 I bought one in aqua, you can find it in black, red, orange, purple, blue and other colors, I'm sure you'll find one color you will love as each color is nice.
I took my time to work on a couple of spreads to make a couple of weekly spreads for my Bullet Journal. The size of the notebook is perfect to design one weekly spread in one sheet. But if you need more room to get on your weekly spread everything you need to do, you can design it on two sheets, and it will work perfect for you.
I will keep working to make more spreads to keep working on this notebook for my Bullet Journal, the best of it is as you can get extra paper to work on it, you can replace the paper as you need to.
There's no need to carry with you lots of paper, just place the spreads and layouts you'll be working on for the present month, and every time you need to set up a new month, you'll find how easy it will be to get everything you want to work on next month in this notebook.
Some of the Filofax A5 Notebook's features are:
The cover is leather look, even if it's not real leather it feels and looks really nice. 
The cover lays perfectly flat when it's open, which helps you to write on the note book with no problem at all.
It has relative small wire bindings, it doesn't get in the way while you work on a new page.
If you're traveling and you want to work on it, it can fold all the way back on itself with no problem.
This notebook has removable pages, every page has holes in a nice shape that allows you to pull out every page but you can also place back the pages in it.
It comes with a few dividers, you can make a few different sections on your notebook. They come in brilliant solid colors and the blue one comes with a pocket. These dividers will help you to customize your notebook the way you want to.
It comes with a plastic ruler, as the sheets it comes with holes, it's easy to remove it from the wire biding to work with it, and it's easy to place it back on the wire biding to keep it on your notebook.
The Filofax A5 Notebook also comes with some extra nice features.
It comes with an elastic strap that snap to it, it doesn't matter if you work on this notebook every day, the elastic strap is made with good quality and it will hold good through time.
The cover has a small notch that helps the strap to lay on its place every time.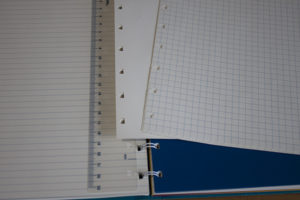 When you purchase this notebook, it comes with some extra sheets on the back, these sheets not only comes lined, but they come graph and blank, so if you want to do some tables or some doodling, these sheets are perfect to work on them.
You can get extra sheets to add to your Filofax with extra refills, you can check the price of the refills on amazon.
Something I need to point out is this notebook was created with fountain pen people in mind, but it's not created just for this writing method, so I can say it's not a notebook exclusive to work with fountain pen.
It's made to be used to any other type of writing, pencil, pens, gel pens, markers, it's important to say that you can work on it with different systems of writing tools, but it's not the best kind of paper to work with any kind of writing tools.
If you want to use it as sketchbook or to try to make some washes, it won't work the best.
The Filofax notebook is perfect to keep it as it is to take notes, but it's also perfect to work on it as your personal planner and why not you can also work on it as your Bullet Journal.
Easy to carry it in your purse or bag anywhere, it's light and its cover folds back flat to help you to work on it no matter where are you, at home, or traveling, which it makes perfect in case you're planning to travel and you're looking for a travel planner to take with you.
I tried the paper with some different writing mediums as pencil, Staedler line markers, ball pen and fountain pen, all of them worked pretty good, paper is so smooth to write on it and ink doesn't bleed out, I only noticed when I used fountain pen ink and markers the ink shows on the back of the paper.

Staedler marker and Bic pens, both works really good on this paper, but it shows on the back of the paper.
I love how the Bic pens work, the ink is so neat when it dries and it looks like the paper was professional printed, but the ink always shows on the back of the paper, in case you want to use these markers on this Filofax notebook be sure to place an extra sheet of any paper under the sheet you'll be working on, so the ink do not get on the sheet below the one you're working on.

I made a weekly spread on one sheet and I noticed working with a fountain pen on this paper is so smooth and you can draw and make lines with no problem at all, ink dries in about 20 seconds.
If you want to work with a fountain pen on this notebook, it's a big YES!

On this image above, you can see how the ink from the Bic markers gets through the paper, on the page on the left, it's the page I work with the fountain pen and there's almost no mark at all.
Verdict:
I just love the Filofax A5 Notebook, the paper is high quality and it's easy to work on it, for the moment I will switch from my old Bullet Journal to it.
I will keep working on it, and please check back on my blog to take a look on the new spreads I'll be working on.
You can check the Filofax A5 Notebook price on Amazon Canada
If you have any question about this notebook, leave a comment and I'll reply to you.
Are you looking to start your own Bullet Journal? Here you can read some of the best Notebooks to start your Bullet journalism.
Liked the Filofax A5 Notebook review? Give my PIN a share!