Finding the Best habits to Improve Your Life won't take long, and they will help you to live the lifestyle you always dreamed on, a few changes in your daily routine will make your life better.
Every day is easier to get to know more about what habits we all should change to make our lives happier, changing a habit sometimes is a real challenge, I've been there and I tried to do that.
But the benefits of living a better life can be many, and I'm sure to say your life can be better.
Whether you work on changing one habit at a time and after a few weeks you can try to change the second one and later the next one, you'll see how your life will improve and the changes you make will become an easy daily routine to follow.
The first days to change a habit into a new one that will help you to live a better healthy and happy life might not be easy and you can forget about it easy, you might notice you come back to the old not so healthy or good habit, the point is you will be focusing on that new habit, it doesn't matter how many times you go back to the old habit, the point is to notice you did and you can go back to the new healthy habit.
[bctt tweet="The success of changing habits to live a better life, is to keep in your mind your goals." username=""]
Take a moment before you start a new habit and write down why you want to start that change in your life. How changing into a new habit will improve your life.
Give yourself a strong reason why you want to make a change. Write it down, words and reasons that will write down on paper will never be forgotten, you can always go back and read that page where you wrote the reasons for why you wanted to work on a new habit.
As you keep working on the new habit, the reason why you wanted to change that habit might change, you can take a look to that page on your planner or Bullet Journal every month and make the changes.
You might want to change the habit to stop having junk food because you want a healthier life, as you work on this new habit the first month, you might see some changes in your body (weight lose and your mood will improve), by the second month, the reason you wanted to start this change might be different: you might want to keep having healthier food because you want to improve your body flexibility or the strength of your body.
By keeping a record of your goals and your own challenges will make easier for you to keep working on making a new habit part of your daily life.
You can read also:
>>>You can download a FREE HABIT TRACKER here <<<
Here you can find a list of 10 new habits you can start working on.
1 – Sleep well routine.
Some people are good sleepers, but some have hard times sleeping the hours doctors recommend to sleep for everyone,.
A good night sleep has many benefits, from feeling good and improving any ones mood, to get healthier and have the will to work better all day long.
People who can't sleep well, can feel tired and sad, making the efforts to sleep better and making a routine to help you to sleep better will help you to achieve this goal.
2 – Exercise every day.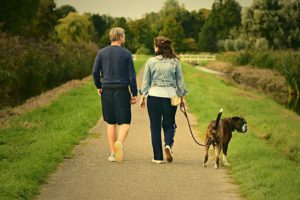 Life for everyone has become sedentary, even for me, I must say I'm guilty of this point, living in Canada has been a challenge for me to keep doing exercise every day during a year, it's easier during Spring, Summer and Fall, but once Winter hits here, it's hard to think about going out and do some exercise at all.
There's always a way to do exercise, for some people is so easy and they have already the good habit to work out at least 30 minutes per day!
For some other people (like me), I need to keep myself to remember to do some exercise at least 15 minutes per day, I know doctors recommend at least 30 minutes of walk, by doing this your health will improve and you'll feel better.
There's no excuse to avoid doing those 30 minutes of exercise every day. I know the first days you might even need an exercise habit tracker to do it.
But once you get used to doing exercise, your body will help you to keep at it, you'll feel better, healthier and happier!
There's nothing easier to start this new habit that going out for a walk, start with 15 minutes, soon you'll notice you'll be working 30 or even 45 minutes.
When the weather turns cold and you can't go out to do exercise, there are a few ways to do exercise indoors, try a gentle routine of yoga, there are plenty of yoga video on YouTube.
You don't like yoga but you got used to going outside and to the 30 minutes walk, well you won't have an excuse to stop doing that 30 minutes walk indoors, there are many good videos of walking workout on YouTube!
3 – Write – The Morning Routine.
Writing as a way to improve your life! This new habit might surprise you at the beginning, you might even say you're not good at writing and you don't want to become a writer.
This new habit has nothing to do with becoming a writer, this new habit will help you to learn to express yourself and to know more about you.
It won't take you more that 10 minutes to grab a paper sheet and start writing, about anything!
You just need to start writing the first word and the rest will come up, it might be hard to start at the beginning, but then you'll get used to it and you'll become better at writing about many subjects, you can keep a notebook for this purpose or make it part of your Bullet Journal.
4 – Dress Up.
This habit is easy to work on when you need to dress up to go to your job, you might have no problem at all with it, but as many people are starting to work from home, some will keep their pjs all day long.
A habit of dressing up will help them to feel better and to work better.
Because you work from home, it doesn't necessary should mean you can forget to dress up and do your job.
This habit might be the choice of each one of them, I personally prefer to dress up every day and do my work from home.
5 – Organize your day.
Once you get used to working on a personal planner or on a Bullet Journal, you'll be a professional to know how to organize your life.
As you start to know the rules to organize your day, you can save lots of time and you can be focused on those 3 first tasks to work on that will change your life for the better.
Organize your day, and in that way you can know in advance what tasks are important to work on first every day while you're free.
Learn the "must do" and "work this" and "if I have time" things of every day.
As you work on making the plans for this week, next week and this month and next month on your Bullet Journal or personal planner, don't forget also to plan to have time for yourself and for your family, life should have fun time also, not all is about work!
Set and write your goals for every week and write down the tasks to work on during the week to achieve your goals, make that everyday counts!
You will be surprised that by learning to organize your day, you'll get more free time for yourself and you'll manage to get everything done.
6 – Tidy up your place.
Just thinking about doing some chores can make anyone sad! But chores must be done, by you or by someone else.
In many cases, you might be the one to do most of the chores at home.
Work on a routine that can help you to do the chores fast and right, instead of spending the day thinking about them, make a routine that will help you to do them in less time and better.
Nothing better that living in a tidy place, and if you're starting to work at home, your place should help you to work better, keep it tidy.
Chores like cooking, and doing dishes after each meal must be a must in every home, but houses can get messy most of the times, learning to get organized will help you to place everything on its place after you use them, make a 15 minutes routine every day to take everything in its place, and it will help you to keep your place tidy.
7 – Make homemade food.
Everyone of us have their own preferences when we talk about what kind of food we love to eat. Tendency is to make the fast food that does not require long hours cooking so we can get more free time.
Or maybe to get used to buying already made food at the grocery store.
Breaking up this habit might be one of the hardest habit to start to work on, for many of us this will mean to learn how to cook at home.
But the benefits of cooking at home are many and all of them are good, by cooking at home, you'll know you get the best and fresh ingredients.
Your health will be improved when you change your eating habits and you start cooking at home.
I know, cooking at home will take some time to prepare your own food every day, but believe me, it worth it to try.
You can always start learning how to prepare healthy salads, they are easy to make and you will find your favorite recipes to make.
You can also learn how to prepare easy recipes at home at the beginning, you'll get used to some cooking terms and techniques, then you will want to try some new recipes.
By cooking at home, this new habit will help you to improve your health, stay healthy and save some money, as eating out every day can be costly.
8 – 20 minutes to 1 hour reading.
If you're serious about changing habits to improve your life, this habit is a must.
It doesn't matter if you just want to read for pleasure or if you want to read to learn a new skill to improve your career, reading is always a good idea.
TV has taken us far from this habit, TV can be fun and before you realize, the day has gone!
Changing that habit to start reading from 20 minutes to 1 hour, will improve your life a lot, from learning a new hobby to learning a new skill or trade, in one year you can accomplish a lot.
No time for reading?
Well, there's no excuses today, you can also get an audio-book to read, if you travel in your car or public service to your work, you can use that time to listen an audio-book.
While you work on some chores at home, you can also use that time to listen to a book.
Keep a reading tracker on your planner or on your Bullet Journal, by the end of the first month, you can check on how much you have read.
What is your favorite topic to read this time?
9 – Make a plan for your life.
Do you have a dream of having a better life, to live the life you always wanted to?
You might be dreaming to live a complete different life of the life you have today, well, it's never impossible to achieve that goal.
It might not be easy and it might take tons of work and time, but you always can improve your life.
Dreaming about that amazing life you want for yourself and for your family is not enough, you need to work to achieve that goal.
One day at a time, and one task at the time, that will make the difference.
Don't leave your dreams in the air, like something that is impossible to achieve, make them happen.
Take your time today to write down on your Bullet Journal or on your personal planner it, take a new page and write it down.
Make a plan for it, what do you need to do to make it happen.
Write down all the steps you need to do, be clear and write down all of them, and what do you need to work on every step.
What people you need to get in touch to learn about more about what you need to do to get that job, or how to save more money to buy that thing you dream to have.
Write down everything about it, even the smallest things you might think are not important.
Make a plan and set the time to work on every step.
Next week you need to work on this:
Next month you need to work on this:
In 6 months you need to have worked on this:
In one year and in 3 years and in 5 years.
Once you have your plan, make a strategy to work on.
Don't forget to check your plan every week and every month and measure your progress.
If something is not working the way it should be, don't change your goals, make changes on your plans and set up a new strategy.
There's always a way to reach your goals, if you need help to achieve them, find a mentor, someone who has achieved it, some people are always willing to share a good piece of advice and some tips.
10 – Gratitude journal.
I have written before about why it is a good idea to have a Gratitude journal, and why focusing on what we all already have will make our lives better and happier.
You might want to live a better life, and most of us might share this wish, me too; I might say every life can be improved, even for those people who already live the dream life, they can also improve their lives.
By getting to notice what we already have in life, you will create a happy life around you.
Most of the people can thing they have the life they deserve and they will ask for more, but living a good life where you can notice the good things you already have and be thankful of them will create a grateful mind in you.
Writing a gratitude journal can help you to notice the things that happens every day in your life.
From having a good and tasty meal by yourself or with your family, to noticing a day with good weather, to enjoy the sunset or a starry night.
You don't need to spend hours writing everything that is good on your gratitude journal, start with 3 things that you noticed today.
Before you go to bed or anytime during the day, just write them on your journal, at the end of the month, you'll be surprised of how many good things happens in your life.
Best daily habits to improve your life and your Bullet Journal or Personal Planner.
To work on changing some habits to make your life better will be always a good idea to start, but many times keeping at it might be though and in a few days or weeks later you won't even remember why you wanted to work on one or more of these habits changes.
Don't let the wind take your wishes away, take your time to write it down, make a nice spread for your Bullet Journal, write down a list of these 10 new habits to try (or the ones you want to work on) and write down right next to each one the reason why you want to work on it.
Make each change you want to make in your life a good reason to keep working on it. Every time you want to quit, this spread will give you the reason why you shouldn't.
Rome wasn't built in one day, nor our dreams!
Knowing the reason why you want to work on a new habit and an habit tracker will help you to achieve any goal you want to, and this is a good reason to keep working on your Bullet Journal or on your Personal Planner.
---
---
Closing.
Dreaming of having the life you want is always good, making it happen is better!
If you have something that you're not happy with in your life, start to make some habit changes, you might get surprised by how making small changes in your life can make big changes in it.
From being healthier, wealthier and happier to anything you want to accomplish in life, small changes in your habits is the key.
I'm sharing here some affiliate links, by doing this doesn't mean you'll need to pay more, you'll pay the regular price and I get a small per cent of the price, by doing this allows me to keep this blog running, I thank you for your support.