Why to add Inspirational Quotes To Your Bullet Journal
Some might not like it and it's OK, but many would love to have an inspirational quote here and there to find the help to keep working on anything you want to accomplish.
As you keep working to reach a goal, there will be good days and bad days.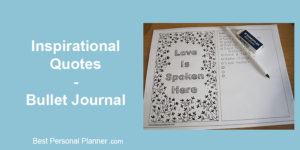 When a day turns into a big challenge, nothing better to find some words that will give you the lift to keep working on it!
You have found the best way to work on a project or on your personal or professional life: the Bullet Journal System.
You know how to write a goal and make a plan, how to break that plan into small tasks to work every day and every week on it.
As you work on it, sometimes everything will work great and you'll see great results without any problems at all!
But there are some days that you might wish that you never got out of your bed!
You need some motivation to keep yourself working no matter what on that project!
Nobody better to give the motivation that you need then yourself! A few words will give you the push you need to keep working no matter what problem you're facing in that moment!
You're the best person in the world to know yourself, and you know that quote that will push you to keep working on anything you want to accomplish.
A simple inspirational word or phrase is all you need, looking at it for a few seconds will give you the push you need in that particular moment.
Adding the right inspirational quote on your notebook or on your personal planner won't take more than a few seconds and it will help you to keep at it!
It doesn't need to be a beautiful designed, you can just hand write it on a piece of paper!
As you keep working to add inspirational quotes on your Bullet Journal or on your Personal Planner, you'll get better at it and soon you'll have a beautiful collection of quotes to share with the world.
* You can find Affiliate Links on this post, you can read the full disclosure here.
Best Inspirational Quotes to Have on Your Bullet Journal!
Some see a weed, some see a wish
Enjoy the simple things of life.
I want to see what happens if I don't give up.
All that glitters is not gold
You're doing a great job!
Whatever you are, be a good one! – Lisa Congdon
Think happy, be happy.
Some days, you just need to create your own sunshine.
Rejection is mere redirection. Keep working.
Don't count the days, make the days count.
Don't be afraid to fail, be afraid not to try.
Great things take time.
Where To Put A Quote.
You can put a quote anywhere you want to have some inspiration on any day!
It doesn't matter if a quote is small or big, write it down on any space you have on any spread, you can just write it down in a moment to give yourself some courage words or make it big to give you a place where you can go back when you need a push in your back to keep going.
On the first page of your notebook or planner
On any random blank page
Make it part of your weekly routine
To enhance a collection or tracker
How To Add A New Quote On Your Bullet Journal
The easiest way to add a new quote on your Bullet Journal or on your Personal Planner is just to write it down on any blank space.
A good quote doesn't need to be fancy written to work, you can add a new quote on your notebook here and there with the help of a regular pencil or pen.
But, if you're more on the fancy design and you love to add color on it, it will look great!
Design Your Own Quote For Your Bullet Journal.
Today I want to share a way to add a quote to give you the inspiration you need to keep working on a project.
Once you know you'll be working on a project, it might be because you set up a new goal to reach.
Making a plan to work on, would be the second step to work on.
I made a new spread to add to my Bullet Journal where I'm going to be working on a new project. I divided the spread in the middle to have the plan to work on the right and the inspirational quote on the left.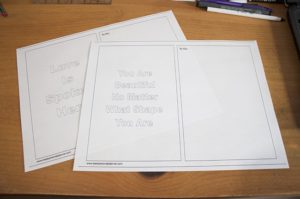 It's not a fancy one but it will help you to work on it, when you download it and print it out, you'll get a spread just with the quote on it.
It will be your job to draw your own design on it. You can get inspired by the two designs I'm sharing on this post or you can make it on your own.
1- With the help of a mechanical pencil, draw the design on it.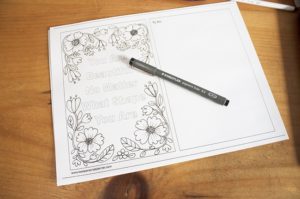 2 – When you're happy with the design, draw it with a ink liner.
3 – Allow the ink to dry for a couple of minutes and erase any trace of the pencil with an eraser.
4 – Add some color on it.
To add the color on this Inspirational Quote I used for the first time the Double-ended Fibre-tip pen from Staedtler and I'm happy to say these pens work great!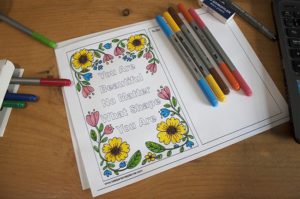 The pen point is great to work even in the smallest spaces, the ink comes out easily and it doesn't bleed at all on the back of the paper.
The fine point will be great to write down anything on your notebook! Get them now on Amazon.ca!
Check today's price of the Double-ended Fibre-tip pen from Staedtler on Amazon.com here!
Draw An Inspirational Quote In Black And White.
A new design for your Bullet Journal or for your planner doesn't need to be colorful or with flowers, you also can work on it with black ink with a liner or with a marker.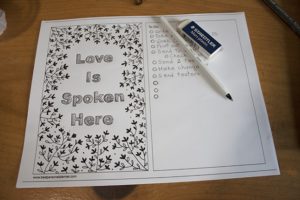 You can draw flowers or just keep it minimalist and draw some doodles on it.
Closing thoughts.
Quotes will always give us the motivation we all need to keep working.
It doesn't matter if your goal is a small one or a big one, but you might face some challenges while you work on it.
Don't wait to find motivation somewhere else or wait for people to tell you how good you're doing. Learning to give yourself the motivation you need will help you to accomplish anything you want.
Write a quote on any blank space on your Bullet Journal or make a new spread for it, make it colorful or in black and white, it will work for you!
Find the right quote you need for every challenge in your life!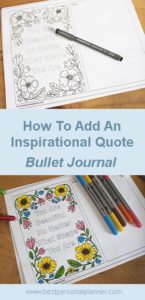 Keep at it and it will get better!
A Bullet Journal that helps you to achieve your dreams and goals is a never ending work. You can read more:
7 Bullet Journal Future Log Ideas to try – Don't wait for next year to start planning, write down any event or project you want to work on the Future Log.
Best Gel Pens 2020 – Find the right Gel Pen to write down everything on your notebook!
New to Bullet Journal system? Find the best Bullet Journal supplies to start here!
Enjoyed this post, PIN IT and share it!